Burrda Sport wants to compete with Nike and Adidas in Europe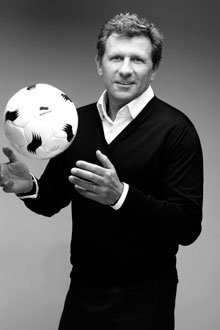 Pierre Arcens
Burrda
Sport, a brand owned by Swiss company Pilatus Sports Management, wants to spread its wings in Europe… and fast!
The sporting goods manufacturer has signed in little time contracts with football clubs from Tunisia, Belgium, Nice and even with Dutch football team FC Twelve. Two French rugby teams, Biarritz and Toulon, will also be wearing
Burrda Sport
's logo on their uniform. The first shirts will be available in France from July and in Belgium from June, where Belgium football team "Diables Rouges" will play against the Turks on June 3rd in order to qualify for the Euro 2012. In order to reach this goal, Pilatus Sports Management has signed an exclusive license with Sports Marketing 2 Business. This project will be led by Pierre Arcens, Burrda Sport's European director and former marketing director of
Adidas
, with Marie Gerard by his side. She also has worked for Adidas for 14 years and is now joining Arcens, plus a team of half a down people, in this new adventure.
The licence concerns all of the Benelux countries plus France, Spain, Portugal, Italy and Northern Africa. "Being a sports brand, we have decided to start our development via partnerships with clubs", commented Pierre Arcens. By 2012 he wants to have signed contracts with Italian and Spanish teams too. Footwear will be ready by 2013, but "that is not a problem since many professional players already have individual contracts for the boots", he continued.
For Burrda, the important thing for now is to stay legitimate and concentrate on team sports. The advantage from working with clubs is that a large number of shirts can be made and distribution is assured. "Each fan will buy a kit with the colours of their team, which then allows them to find out about our brand", said Pierre Arcens.
Burrda Sports, which runs its business in the Middle East from an office located in Qatar, has certainly got a few busy years ahead, especially now that Qatar was chosen to host the 2022 World Cup. "Our objective is to transform Burrda into a global sportswear brand", Arcens concluded. With its wave logo and the slogan "Challenge Yourself", the campaign is ready to go. Today, the brand works with design teams based in London, Paris and Doha.
Copyright © 2022 FashionNetwork.com All rights reserved.