Calida Group's operating profit rises 23%
Swiss Group Calida has begun to implement the internationalisation strategy of its two lingerie brands, Calida and Aubade. Aubade has signed lease contracts for boutiques in London, Copenhagen, Brussels, Monaco and Nuremberg, while Calida is set to open new stores in Brussels and Amsterdam. Both brands are showing progress in development in their core markets, which are Switzerland (for Calida) and France (for Aubade). The group stated that "the sales growth on both brands was principally generated from the group's own stores."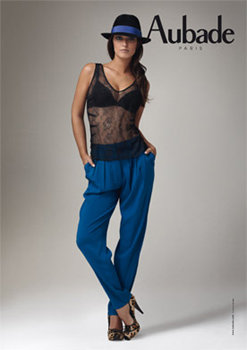 Calida Group's lingerie brand Aubade
During the first quater of fiscal 2011, Calida Group reported a solid currency-adjusted sales growth of 5.9% versus the prior-year period. Sales at Aubade grew by 8.9% and Calida by 4.1%. However, as most of the sales were made outside Switzerland, the group's sales fell by 2.7% due to currency impact, amounting to 94.4 million Swiss francs (83 million euros).
On the other hand, its operating profit (EBIT) rose by nearly 23% and increased from 56.8% last year to 58.4%. Its net profit went up 85% and reached 8.7 million Swiss francs. The outlook for the full 2011 financial year remains positive on account of the order book, which is "slightly higher" than the previous year.
Copyright © 2023 FashionNetwork.com All rights reserved.