Carrefour fires French boss, shelves property IPO
May 5 - Carrefour SA fired the executive tasked to revive its core French business and said it was shelving a controversial property listing, fuelling talk of boardroom dissent and worries over its turnaround plan.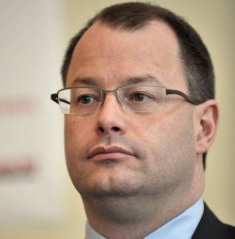 James McCann
Europe's top retailer said
James McCann
was leaving only 15 months after he was picked to boost flagging French sales, raising concerns over its new Carrefour Planet hypermarket revamp plan -- the lynchpin of the group's turnaround plan.
Reasons for the shock departure were not given in Carrefour's statement, but a Carrefour spokeswoman said McCann was leaving because the performance of the French business -- which made 38.7 percent of 2010 net sales of 90.1 billion euros ($134 billion) -- did not meet management expectations.
Carrefour did not say if McCann had been fired or had resigned, though a source close to the matter said he was fired.
Contacted by phone, McCann told Reuters he would not comment at this stage on the reasons for his departure.
One person familiar with the matter said the former
Tesco
Plc manager was uncomfortable with plans to spin off assets, which have been championed by key shareholders Colony Capital and
Groupe Arnault
but opposed by others.
Several sources said McCann had grown frustrated with pressures from top Carrefour shareholders and had left because he felt he did not have enough leeway to properly do his job.
"Neither of these developments is positive in our view and once again brings into question management's strategy and ability to ... execute its turnaround plan," analysts at Espirito Santo said in a research note.
Francois Chaulet, fund manager at Montsegur Finance, said shelving the IPO was not necessarily a bad decision but added: "There is a real problem with Carrefour today."
At 1011 GMT, Carrefour shares were down 2.2 percent at 30.91 euros, off an earlier low of 30.8 euros and valuing the group at 22 billion euros. The stock has lagged the STOXX Europe 600 retail index .SXRP by 13 percent over the past year.
"McCann's departure will raise further questions over the potential for the "Planet" concept and the "En Avant" turnaround programme to be successful and this is key to our long term investment case," JP Morgan Cazenove analysts said.
MOUNTING OPPOSITION

Carrefour, the world's second-biggest retailer by sales behind U.S. group
Wal-Mart
Stores Inc, said Chief Executive Lars Olofsson would take over management of its French business pending the appointment of a successor and it would press ahead with plans to spin off discount chain Dia.
Carrefour launched its "En Avant" turnaround plan in 2009 with a goal of making 4.5 billion euros of savings. In September it said it would invest 1.5 billion euros in revamping its main western European hypermarket business.
After initial enthusiasm for the plans, investors' confidence was shaken by two profit warnings late last year.
Earlier this year, the group came up with a plan to float discount chain Dia and 25 percent of Carrefour Property to deliver 4 billion euros in special dividends and mollify key shareholders Colony and Arnault.
Colony and Arnault, which hold 13.5 percent of the capital and 20 percent of the voting rights of Carrefour, are still down on their 2007 investment, made at about 50 euros a share.
However, the property spin-off in particular sparked opposition from parties including activist shareholder Knight Vinke, European shareholder rights group Deminor, French minority shareholder association APPAC, French labour unions and founding family shareholder Defforey.
Vinke, which owns 1.5 pct of Carrefour's capital, hailed the decision to defer the listing of 25 percent of Property, while Michel Enguelz at labour union Force Ouvriere said McCann's departure was negative but the Property decision was "encouraging".
Critics had said ceding some control of its properties could weaken Carrefour in a competitive grocery market, and people familiar with the matter said there was some opposition to the plans within the boardroom.
Earlier this year, European boss Vincente Trius defected to Canadian grocer Loblaw and independent board member Jean-Martin Folz left, fuelling talk of dissent.
"The broader question ... is why they were doing it (the property spin off) in the first place. There's some pretty big worries about corporate governance," said Bernstein analyst Chris Hogbin.
By Dominique Vidalon and Mark Potter
(Additional reporting by Mark Potter in London; Editing by James Regan and Erica Billingham)
© Thomson Reuters 2022 All rights reserved.