Carrefour ordered to close China store
BEIJING - Authorities in central China have ordered European retail giant Carrefour to temporarily close one of its stores, a local government official said on Monday, days after state media said the chain was passing off regular chicken as free-range meat.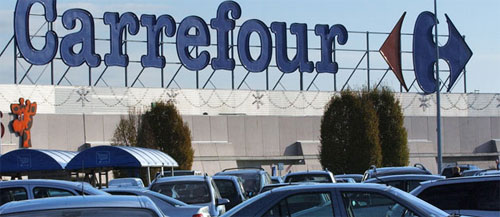 Photo: Mychèle Daniau/AFP
The closure is the latest case of Chinese officials cracking down on foreign brands and comes after food safety authorities said last week they were investigating a Beijing branch of McDonald's Corp, the world's biggest hamburger chain, after reports of quality problems there.
State media had reported that the Carrefour store in the capital of Henan province, Zhengzhou, had been selling meat with expired freshness dates and mislabelled ordinary chicken as free-range chicken.
"According to the law on protection of consumer rights and interests, our office on March 18 issued an order for Carrefour's Huayuan branch to cease and reorganise operations," an official at the local industry and commerce department told Reuters by phone, reading a statement.
"After reorganisation is completed to meet standards, it can resume operations," she said, without giving further details.
Repeated calls to Carrefour's China office on Monday went unanswered.
Carrefour China earlier had posted an apology for the incident on its Chinese-language website (carrefour.com.cn), saying the company was taking immediate measures to resolve the food safety issues.
"Carrefour China attaches great importance to...reports of fresh food product quality management at the Zhengzhou Huayuan store and sincerely apologises for any impact or losses suffered by consumers," the statement said.
China has struggled to rein in health violations in the unruly and vast food sector despite harsh punishments and repeated vows to deal with the problem.
The country is notorious for its food safety woes, with tales of fake cooking oil, tainted milk and watermelons that explode from being fed too much fertiliser, regularly appearing in the news.
Last October, 13
Wal-Mart
stores in the city of Chongqing were shut down for two weeks after local authorities discovered branches of the world's largest retailer selling regular pork labelled and priced as organic.
Both the American Chamber of Commerce in China and the European Union Chamber of Commerce in China have published reports saying foreign firms are sometimes unfairly singled out for punishment.
Reporting by Michael Martina and Sally Huang; Editing by Don Durfee and Matt Driskill
© Thomson Reuters 2023 All rights reserved.