Chanel slams "bling-bling" in haute couture show
By Sophie Hardach
PARIS (Reuters) - Dramatic blood-red gowns on the catwalk, billowing fur coats in the audience: at the haute couture shows in Paris on Monday the super-rich defied the economic crisis in extravagant style.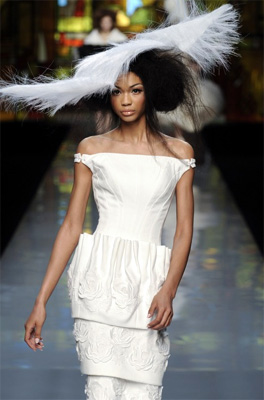 Dior haute couture spring-summer 2009
Luxury executives have cut costs and jobs due to falling sales, but the message of new modesty has yet to reach the jet-setting crowd admiring wasp-waisted sunshine yellow and pale blue dresses at
Dior
and tasselled suits at Armani Prive.
Designers must meet a strict set of criteria to enter the exclusive club of haute couture, which has just admitted a new, 12th member -- Stephane Rolland.
"Haute couture is unique," said Ellen Olivier de Vezin, a former public relations executive who came from California to see Rolland's show of geometric black, white and red dresses.
"The skills that go into haute couture are disappearing and it's a privilege to buy these clothes," she added.
The select few who nabbed front row seats at the Dior show echoed that love of craftsmanship and fine material.
Tottering across the cobblestone courtyard at the Musee Rodin where the show was held, they challenged the global downturn with big hair, big furs and big sunglasses.
"Sometimes I get surprised, you hear there is a crisis but you still see people shopping," said a Jordanian Dior client, queuing in front of the sun-streaked facade of the museum.
"When you want something exclusive, you have to go to haute couture. My daughter is getting married and I want a dress specially made for her -- and for myself, and sisters and family," said the client, who did not want to be named.
FEWER MODELS
However, there were fewer models than usual in the show, a sign that even the very top, where dresses can easily cost upwards of 30,000 euros (28,207 pounds), is perhaps feeling the economic chill.
Luxury brands tend to lose money or just about break even on their haute couture collections. But the celebrity-studded shows and flamboyant gowns generate buzz and priceless advertising for more affordable products, such as perfumes and accessories.
Armani Prive gave a nod to new markets with Chinese-inspired red tassels on purple and silver dresses and jackets. Up-turned cuffs and hems peaked skywards like the roofs of Chinese pagodas.
"If you react to the crisis, you can't produce high fashion," Italian designer Giorgio Armani told Reuters after the show. "High fashion is like watching a beautiful film, it belongs to a different world."
Dior designer John Galliano was just as happy to take a holiday from reality.
His pink and red silk gowns with tight bodices exploded into voluminous silk and floral-print skirts and would not have looked out of place at a garden party thrown by Marie Antoinette. A soundtrack of chansons by First Lady Carla Bruni-Sarkozy rounded off the carefree mood.
"The theatrics speak to me as a showgirl," burlesque dancer Dita von Teese told Reuters after the show. "It is good to know there are other people who appreciate this kind of thing -- beading, rhinestone, feathers."


By Sophie Hardach
PARIS (Reuters) - Chanel prescribed boxy white jackets and white wool skirts as a cure for boomtime excesses at its haute couture show on Tuesday, calling for a new asceticism in a ballroom crammed with celebrities and wealthy clients.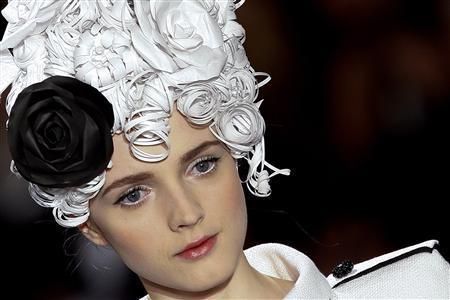 While Chanel designer Karl Lagerfeld said it was time for a big cleanse after years of indulgence, rival couturier Christian Lacroix preferred to ignore the economic crisis with a fairytale display of frothy tulle dresses and embroidered taffeta coats.
"We had too much stuff, too much red carpet, too much bling-bling, too much of everything, and it was like having an upset stomach from eating too many good things," Lagerfeld said about the bubble years that preceded the downturn.
"So then you have to have a big cleanse. It's a refined purge," he told Reuters after the show, wearing a sharp black suit, sunglasses and his trademark studded leather gloves.
Taking his inspiration from a blank page, Lagerfeld dressed models in knee-length skirts, bolero jackets and tailored dresses cinched by shiny black belts, in a play on Coco Chanel's classic wool suit.
But there was still plenty of bling-bling in the shape of fantastical white head-dresses, black and white glitter and rhinestones, to the delight of Lagerfeld's Hollywood fans.
"I think in different periods in the world, fantasy is always really important. It's good to get lost in that fantasy for a minute or two," said actress Keira Knightley, seated at one of the little white tables that dotted the ballroom.
Her own fashion formula was more simple.
"I don't plan my wardrobe I'm afraid. I go for whatever is clean," she told reporters.
RED AND PINK CLOUDS
Chanel suits, two-tone shoes and quilted handbags filled the audience as the fashion house's most loyal customers dressed for the occasion. But like other exclusive brands, Chanel is feeling the end of the luxury shopping spree and has been forced to end the contracts of 200 temporary workers.
Fashion houses have also cut back on marketing, putting on fewer shows, hiring fewer models or scrimping on parties. But it is next to impossible to economize on haute couture, the most extravagant form of advertising for luxury firms, where hand-beaded, embroidered gowns cost upwards of 30,000 euros.
At Lacroix, dreamy exuberance defied the financial gloom.
Ruffled polka-dot dresses, embroidered corsets and puffball skirts, red and pink clouds of tulle floated past an enthusiastic audience that included Ivana Trump, unabashed fashionista and ex-wife of property mogul Donald Trump.
Paola Schulhof, a New Yorker attending the Chanel show who has been a fan of the label since she was a little girl, believes haute couture will weather the crisis.
"The artist will always be there, and it's a matter of backing them up," she told Reuters, adding she had a Chanel haute couture dress made for her when her son got married last year. "I love wearing it, I was waiting specially for that occasion."
© Thomson Reuters 2023 All rights reserved.