Chanel smolders, Valentino grins on Paris catwalks
PARIS | Tue Mar 8, 2011 - Italian fashion brand Valentino said on Tuesday that 2011 had started well and fended off rumors it was preparing to put itself on the auction block.
"It (the sale) is something that will happen some years from now," Valentino Chief Executive Stefano Sassi told Reuters in a backstage interview after its Autumn/Winter 2011 ready-to-wear catwalk show for Paris Fashion Week. "This year will be the year we focus a lot of attention on retail."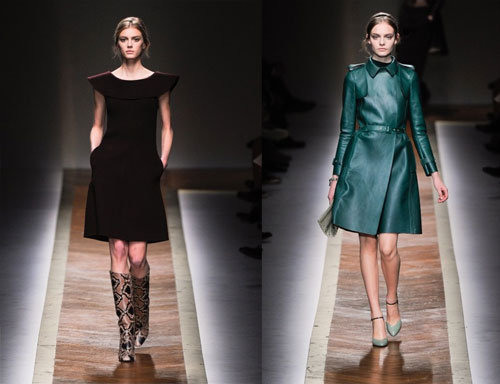 Valentino - AW 2011/12 - Foto: Pixel Formula
He said Valentino sales to date had been stronger than last year, but that it was too early for a full-year forecast.
Staged under a tent in the Tuileries garden, Valentino's dresses were simple and truly ready-to-wear, verging toward a high street look rather than the theatrical designs which might not look as good on retail customers searching for wearable fashion as they do on a runway model in a glitzy show.
Designers Maria Grazia Chiuri and Pier Paolo Piccioli unveiled close-fitting knit dresses with visible ribbing, a schoolgirl-ish flared coat in Prussian blue, and a series of evanescent floor-length gowns.
Valentino shares private equity firm Permira as controlling shareholder with German fashion house Hugo Boss which was hived off from the Valentino Fashion Group when its debt was restructured.
GLOOM AT CHANEL
The mood was distinctly more somber at Chanel where designer Karl Lagerfeld seemed to have been inspired by an apocalyptic future with a collection themed after volcanic landscapes.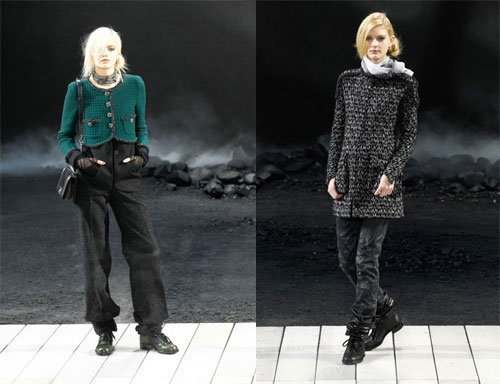 Chanel - AW 2011/12 - Foto: Pixel Formula
Rocks smoldered, the stage fumed and swirls of grey smoke wafted over an ash-strewn catwalk at Paris' Grand Palais, as Lagerfeld unveiled his dark vision for women's ready-to-wear near the end of an emotional week for the industry.
"We needed a return to purity after this onslaught of color," the German designer told reporters after the show. "It's very chic, all of this black."
Less beholden to Chanel's archives than his past two shows, Tuesday's collection featured a loose take on the brand's flared jacket -- now roomier, slanted down the front and rendered in heavy knit -- that nonetheless hewed closely to a seasonal trend for comfort-giving fabrics.
Ubiquitous at Paris Fashion Week, capes and quilt-like materials were also on display at Chanel, where bulkier winter tops were offset by pencil-thin skinny trousers and heavy boots, lending the show a touch of London punk aesthetic.
Also breaking with Chanel tradition were trouser-suits in silver-gray fabric, reminiscent of space gear.
Friends of Lagerfeld, like his former model and muse Ines de la Fressange, defended his departure from tradition.
"Chanel is not classic anymore...maybe not so many people want classic anymore," Fressange told Reuters.
Film buffs might have detected a reference to 1970s science fiction in the show's dramatic opening, when a giant box emblazoned with interlocking "Cs" opened onto the catwalk like a spaceship gangplank, spilling top model Stella Tennant.
"This is so much grander than I had expected," said British pop-singer Duffy, adding that this was her first Chanel show.
(Additional reporting by Mathilde Gardin, writing by Nick Vinocur and Astrid Wendlandt, editing by Paul Casciato)
© Thomson Reuters 2023 All rights reserved.