Christian Lacroix brand lives on, CEO says
PARIS, March 8 (Reuters) - Fashion house Christian Lacroix may be bankrupt but the brand lives on thanks to new licence deals in areas such as furniture, eyewear and upmarket stationary, the chief executive of the company said.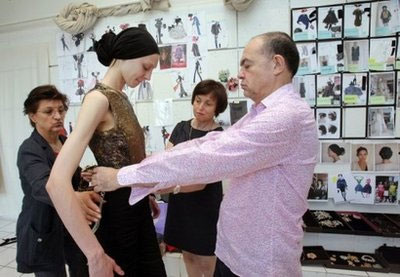 Photo: AFP/Pierre Verdy
Having failed to secure a buyer before Christmas and axing all but 12 out of 124 employees, the company behind the brand is trying to come out of administration and raise cash by venturing outside fashion.
Christian Lacroix Chief Executive Nicolas Topiol said legal controls had been put in place to minimise the risk of damage to the brand's image.
"Of course there is a risk for the brand's image," Topiol told Reuters in an interview. "But all the controls will be put in place, on the products, on the distribution and everything that has to do with the image of the product," he said.
Experts often cite Pierre Cardin as an example of a brand that has suffered from excessive ready-to-wear licence deals and from being associated with too many businesses outside fashion.
Topiol said the Christian Lacroix company, which still had a ready-to-wear activity through menswear licences, needed to rebuild itself before getting back into womenswear, which he did not expect before 2012.
To support his strategy, Topiol cited Balmain fashion house, which gained back its strength through licence deals and rose from its ashes in 2005 after succumbing to the 2001-2002 luxury downturn.
Licence partnerships allowed Balmain to dramatically lower its cost base. It also brought in designer Christophe Decarnin who infused new life into the rock-chic brand.
Topiol said it looked unlikely the Christian Lacroix company would hire its eponymous founder, known for his puffball skirts and baroque embroidered dresses. But he added: "The door remains open."
Christian Lacroix, who founded his maison in 1987, sold the business to French luxury giant LVMH (LVMH.PA) shortly after to help it grow. The fashion house now belongs to the Falic family, owners of U.S. retail group Duty Free Americas [DFI.UL].
Excluding restructuring costs of 500-600,000 euros, Topiol said he hoped the company would break even in 2010 thanks to licence deals and significantly lower operating costs. Its flagship Paris shop on rue du Faubourg St Honore and associated offices were being sold but its New York outlet, opened in 2008, would remain open as well as the Paris left bank shop.
In recent weeks, Christian Lacroix signed partnerships with the eyewear maker Mondottica, the U.S. stationary company Libretto, the French wall woodworks company Marotte and Designers' Guild, Topiol said.
It is also exploring a potential licence contract with a perfume and cosmetics maker. FASHION VICTIM
Christian Lacroix's demise came as little surprise. The company never made a profit in its 23 years of existence and was already financially fragile when it started to get hit by the global spending slump in 2008.
However, the fashion house's collapse served as a bleak reminder that haute couture rarely makes money and ready-to-wear is a tough business unless global sales are big enough to support high fixed costs.
Christian Lacroix fell into administration in June 2009. Potential buyers included Gulf investor Hassan Ben Ali Al-Naimi and Bernard Krief Consulting. But both failed to give financial guarantees in time for the courts to approve a takeover in December.
Topiol said the Falics' 30 million euros of debt would be converted into equity and the Lacroix company's accounts payable, totalling some 14 million euros, would be spread out over 10 years.
In 2009, the Christian Lacroix fashion house made a loss of 10 million euros on revenues of 30 million euros.
Topiol said three new potential buyers had recently shown an interest but he was not actively seeking to sell the business.
"But if we receive an offer we cannot refuse, we will see," he said.
Topiol estimated that the Falics must have spent about 36 million euros on Christian Lacroix since they acquired it five years ago and the fashion company's total losses over the past 23 years must have reached between 150-200 million euros.
(Editing by Erica Billingham)
© Thomson Reuters 2023 All rights reserved.