Christian Lacroix turnaround plan set to be adopted
PARIS, Nov 30 (Reuters) - A turnaround plan for troubled fashion house Christian Lacroix drafted by its owners looks set to be adopted on Tuesday 1 December by a French court as potential buy-out candidates have failed to meet the terms for a takeover.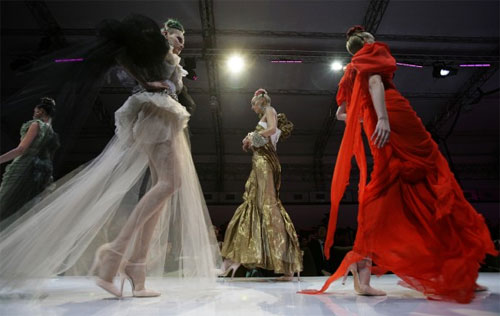 Christian Lacroix, Haute Couture, spring-summer 2009
"We did not receive the guarantees we asked for. There is nothing new (since the ruling was postponed)," the administrator in charge of the dossier, Regis Valliot, told Reuters on Monday 30 November. "The judgement should take place tomorrow."
The decision could be pushed back until Dec. 8 if the possible buyers -- Gulf investor Hassan bin Ali al-Nuaimi and France's Bernard Krief Consulting -- come forward with more concrete details at the last minute, Valliot said.
Christian Lacroix, the company behind the designer known for his baroque and embroidered dresses, was once part of French luxury giant LVMH (LVMH.PA) and now belongs to the Falic family, owners of U.S. retail group Duty Free Americas.
Lacroix was placed under creditor protection at the start of June and has not made a profit since being founded 22 years ago.
The Falic group's turnaround plan consists of closing down Lacroix's haute couture and pret-a-porter activities, while keeping the licensing contracts for accessories and perfume. Out of a staff of 120, only 11 workers would be retained.
However, even if the plan was approved on Tuesday 1 December, other investors could still negotiate with the Falic group to take a stake. (Writing by Nina Sovich; Editing by Dan Lalor) (([email protected]; +33 1 49 49 54 52))
© Thomson Reuters 2023 All rights reserved.