Debenhams eyes multi-channel margin boost
August 3 - The head of Debenhams, the country's No. 2 department store group, said he is targeting higher profit margins by allowing customers to order an extended range of products through self-service kiosks and instore online shopping areas.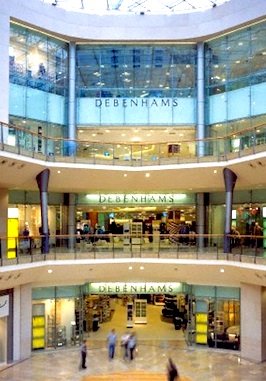 A Debenhams department store in Birmingham, UK. - photo: corbis
Chief Executive Rob Templeman told Reuters the Internet initiatives, which would see the firm offer bigger ranges of homewares, furniture and electrical items, were a potential "game changer" for Debenhams' profit margins.
Speaking in an interview at the retailer's flagship Oxford Street store, he said a trial of dedicated instore online shopping areas would run alongside the roll-out of small ordering kiosks.
The kiosks, which will be in all Debenhams' UK stores by the end of October, enable shoppers to order out of stock product or products that are typically not sold in store, over the Internet, for collection from stores or delivery to home.
In the larger dedicated areas shoppers will be able to relax, surf iPads, watch the Debenhams TV channel and order a wider range of products.
The first trial will be up and running at Debenhams' Coventry store by the end of August. Two more will follow shortly after. If successful the initiative will be gradually rolled out across the Debenhams portfolio.
"Where the prize in margin comes is we've always got enough stock to satisfy demand, it just happens to all be in the wrong place. The biggest complaint we have is 'I like that dress, it's not in my size,'" said Templeman, who will retire after eight years as CEO in September and be succeeded by deputy CEO Michael Sharp.
With the gross margin benefit from Debenhams' phasing out concessions in favour of own bought brands -- now 82 percent of total sales versus a target of 85 percent -- close to having run its course, Templeman sees multi-channel initiatives as the big drivers of margin gains going forward.
"You get a benefit from faster sell-through because by improving (product) availability you're reducing your mark-down," he said.
Sharp said there was no reason why Debenhams' Internet sales, currently 7 percent of total sales, could not reach about 15 percent by 2015.
"The way you do that is by expansion of choice, logical expansion of things that customers would expect Debenhams to sell," he said.
UK consumers are grappling with rising prices, particularly in fuel and utilities, subdued wages growth, limited credit, a stagnant housing market, government cutbacks and fears of interest rate rises.
This has triggered a spate of major failures, including fashion retailer Jane Norman, which had concessions in Debenhams stores.
"We don't see it getting any easier next year," said Templeman.
"Where you get some downsides from the macro, you might get some upsides because competition falls by the wayside. Inevitably if business stays tough we're going to see more retailers get into trouble."
But the CEO said he did not think the British government should change course and delay its rapid deficit cuts, which opposition politicians and some economists believe are endangering economic recovery.
"The government's had to take some hard calls and I think some of the calls that they have made have been right," he said.
Templeman will remain as a Debenhams consultant for up to one year when he steps down as CEO.
Sharp envisages particularly seeking his counsel in relation to overseas acquisitions to build on the 2009 purchase of Danish chain Magasin du Nord. Opportunities throughout western Europe and emerging markets, such as Turkey, will be considered.
Debenhams returned to the stock market at 195 pence in 2006 after two and a half years in private equity hands.
The stock closed Monday at 66.75 pence, valuing the business at 859 million pounds.
The firm said last month it would meet expectations for full year profit.

(Editing by Mark Potter)
© Thomson Reuters 2022 All rights reserved.