Debenhams not counting on summer events boost
LONDON - Debenhams, Britain's No. 2 department store group, is not counting on a major boost to sales this summer from the London Olympics, Queen Elizabeth's Diamond Jubilee, and soccer's Euro 2012 championship.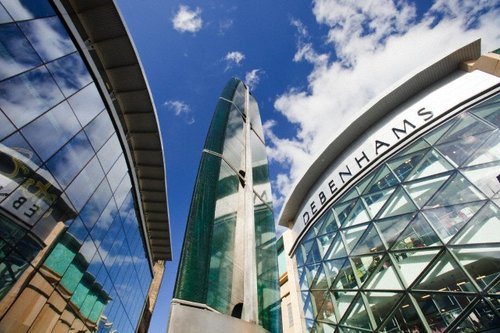 Newcastle City centre, Tyneside, UK / Photo: Corbis
"To be perfectly honest, I think it is unclear as to the impact that those events will have," Chief Executive
Michael Sharp
told Reuters on Tuesday.
Several major British retailers, including
Marks & Spencer
and
John Lewis
, have highlighted the summer events as a major opportunity for a fillip to sales. But Sharp is more cautious.
"I'd like to think the Jubilee will have a feel-good factor, certainly the Royal Wedding did last year," he said.
"(But) I know from past experience that European or World Cup football can be disruptive because it distracts spending into burgers, barbecues and TVs away from clothing and I have no understanding of what impact the Olympics will have at all."
Sharp was speaking after Debenhams posted an improving sales performance in its first half, showing its resilience to tough conditions across the retail sector.
With a wide range of products from lipstick to hand bags, the firm has fared better than most during the downturn.
The strategy of Debenhams, ranked second in the UK after employee-owned John Lewis, is to drive profits by investing some of its gross margin, through price cuts and promotions, into pushing sales.
Shares in Debenhams, which trades from 170 stores in the UK, Ireland and Denmark, 66 franchise stores in 25 international markets and across the Internet, rose 1 percent after it said sales at stores open more than a year rose 0.3 percent, excluding VAT sales tax, in the 26 weeks to March 3.
That was ahead of analysts' average forecast of a fall of 0.2 percent, according to a company poll, and flat sales in the 18 weeks to Jan. 7.
The firm said it had a strong finish to the half with like-for-like sales up 2.4 percent in the last eight weeks, reflecting a successful winter sale and good customer response to new spring/summer merchandise.
Debenhams maintained guidance of flat gross margin for the full year, though it fell 30 basis points in the first half.
"Whilst it is prudent to remain cautious about the health of the wider economy and the impact this may have on consumer behaviour in the short-term, we remain comfortable with the outlook for the full year," said Sharp.
The company's shares, which have increased by a third over the last three months, were up 0.6 pence at 76.4 pence at 1038 GMT, valuing the business at about 985 million pounds.
"This performance stems from having a differentiated strategy and tight supply chain, stock, and cost management. These credentials should continue to help the rating in 2012," said Singer Capital Markets analyst Matthew McEachran.
British retailers are mostly struggling as disposable incomes are squeezed by rising prices, muted wages growth and government austerity measures, and as shoppers fret about job security, a shaky housing market and the euro zone debt crisis.
UK inflation edged down in February to the lowest level in over a year, official data showed on Tuesday, keeping hopes alive that easing inflation will allow consumers to increase spending this year and boost the economy.
"Where you will really see the benefit of the easing of inflationary pressure will be on the new season merchandise for clothing that comes into store July, August, September," said Sharp.
By James Davey
© Thomson Reuters 2022 All rights reserved.