Denham arrives in the US at American Rag in Los Angeles
A new milestone for Denham the Jeanmaker: the Dutch label, launched in 2008 by Englishman Jason Denham, has taken its first step into the American continent. The brand recently announced that its products are now available to buy at dedicated shop-in-shops at American Rag stores in Los Angeles. In addition to some special creations, such an entirely hand-assembled and handsewn men's "Skinner" jean as well as innovative signatures such as the "Duty" M65 style jacket, the shop-in-shops will also offer the brand's full international collection of men's and women's premium denim, related tops and outerwear. Denham's pieces stay true to the label's motto: "The truth is in the details."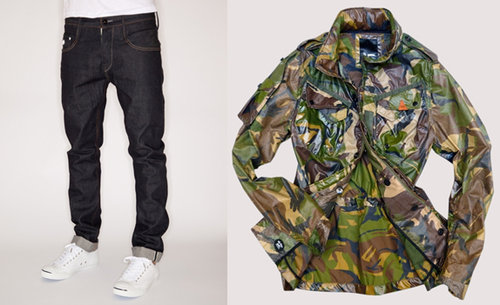 Denham's Skinner jeans and Duty jacket
"Our brand positioning is 'premium lifestyle denim brand' for both men and women," said Denham's brand director Ad De Hond. Our prices are also premium, with jeans prices ranging from 139 to 549 euros, jackets from 279 to 699 and shirts from 119 to 229." Denham manufactures its clothes in Japan, China, Turkey, Italy, UK and Holland.
For the time being, the Netherlands is still the brand's main market. Currently sold in 17 countries, Denham employs around 50 people and is present in Europe and Japan. The Dutch label can be found at large retailers such as '14Oz à Berlin' in France,
Selfridges
in the UK and Clinic in Belgium.
In a similar fashion to
Louis Vuitton
, which has created special houses where people can find out more about its savoir-faire, the Dutch brand also has what it calls The Denham House, "a place where we mix retail with wholesale and people can come discover the brand's identity, its history and how we sell our products," said Ad De Hond. "We currently have three Denham Houses in Amsterdam, Tokyo and London." The label is also planning on opening more of these houses in other key markets.
Copyright © 2023 FashionNetwork.com All rights reserved.