Derek Lam launches his first concept store in New York
It is in New York, naturally, that Derek Lam has opened his first concept store. The store is located in the heart of Soho and was designed the architects at Sanaa.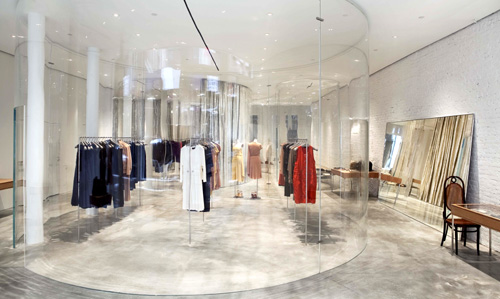 Concept store from Derek Lam
The Tokyo based duo, comprising Kazuyo Sejima and Ryue Nishizawa, have developed over the past year and a half a white interior with brick walls and concrete floor. The store is traversed by multiple walls covered in glass, in the dents and hollows of which are holders and display units in wood and aluminium. Lastly, the front of the store has an open feel with a large bay window onto Crosby Street.
"I am very happy to work with architects who share my design philosophy and whose work I greatly admire", said Derek Lam. "Sanaa has created a distribution environment at once minimalist, functional, warm and familiar. The design of the store marks an important step in the solidification of the identity of a brand".
By Jonathan Fulwell (Source: Matthieu Guinebault)

Copyright © 2023 FashionNetwork.com All rights reserved.