Designers keep crisis in mind at Milan's menswear
By Marie-Louise Gumuchian
MILAN, Jan 18 (Reuters) - Designers at Milan's menswear fashion week said the global financial crisis remained firmly on their minds as they sought to woo credit-crunched buyers with their designs.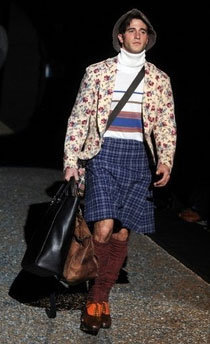 A creation of Vivienne Westwood
during the fall-winter 2009/2010 fashion show in Milan
Photo : Giuseppe Cacace/AFP
Bottega Veneta
kicked off the second day of Milan's Autumn/Winter 2009/2010 fashion week on Sunday, with Creative Director Tomas Maier saying the fashion house had thought very carefully about what its customers wanted at this time.
"I think whenever you're designing, you're always influenced by what is going on in the world, you're automatically influenced by what is going on around us," Maier told Reuters.
"The last collections, for us, were very paired down, restrained and not opulent ... I'm not about opulence at all, I'm not showy. I don't think it's what anybody wants right now."
Maier took inspiration from the cardigan, putting in softer cardigan-like sleeves on jackets. He added knit in different places -- as a bowtie or the collar of a coat. Colours were soft -- ash, graphite, grey-brown and truffle brown.
"(We are) going through rough times right now, and when I get home at night, I put on my cardigan -- it's like 25 years old, it's my favourite piece of clothing. It gives you that (element) of comfort and feel good," he said.
"I felt it was interesting to translate that into the attitude of the season's clothes because I think it was important to bring some kind of ... softfulness ... something that makes you feel good."
Seeking to go back to his origins, Roberto Cavalli told reporters at his show it was "important to win the financial war, to overcome this moment."
With a hacienda-like set, he sent out models in largely open neck shirts, loose cashmere blanket-like coats and slim trousers. He studded jackets, sleeves, cuffs, and belts.
Silk scarves were tied around the neck while woollen ones hung loosely. Sneakers were made of Mexican blanket-like material.
GREEN FOR ARMANI
Presenting "a quest for and a return to a quality of life in which the background hubbub and frantic pace of modern living melt away," Giorgio Armani turned to nature, showing high-waisted trousers with straight legs and short jackets for his Emporio Armani brand.
He used green heavily for what he called an "eco-style" of fashion.
"There are people who are seriously affected by this crisis, I hope there are few," he told reporters after his show.
"Well being, even psychological, won't be back before 2010," added Armani, who had soccer player David Beckham at the front row of his show.
Also showing on Sunday was Prada, whose models wore collarless coats in mainly grey and black. Collars were round or V-neck on jumpers, which sat comfortably.
Designer Miuccia Prada put metal-like studs on shoes, the front or back of trousers, shirt collars and coats.
Luxury brands have not been spared by the credit crunch, and Milan's menswear fashion week -- which runs until Tuesday -- comes as the economic recession begins to bite hard in the United States and elsewhere.
Burberry (BRBY.L) Creative Director Christopher Bailey said after his show on Saturday it was important for designers to keep the global economic context in mind.
"You can't be blinded by what is happening in the world," he told Reuters.
"But I also think that you still have to have a vision, you have to have a point of view and I think people still want to dream, and I think you still need to inspire people." (Editing by Sophie Hares)
© Thomson Reuters 2023 All rights reserved.