Diesel banned from using "offensive" ads
LONDON (Reuters) Fashion label Diesel has been banned from using two adverts showing young women which a standards watchdog said were likely to cause serious offence.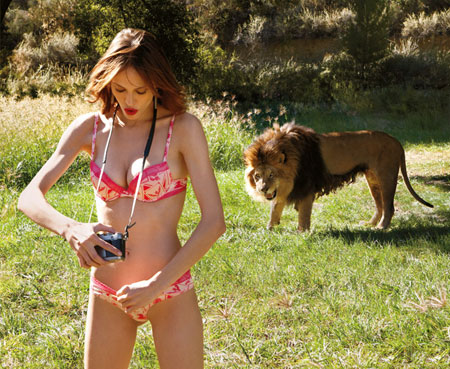 www.diesel.com
The first shows a woman holding open the waistband of her bikini bottoms and taking a picture of her groin as a lion prowls behind her.
In the second, a woman stands on a step ladder whilst lifting up her top to expose herself to a security camera.
Both carry text saying: "smart may have the brains but stupid has the balls. Be stupid. Diesel."
The Advertising Standards Authority (ASA) said on Wednesday 33 complainants had said the ads were offensive, unsuitable to be seen by children and encouraged anti-social behaviour.
Diesel responded that the ads intended to show femininity in a different, unique way.
It said in a statement: "the posters portrayed a very strong and unexpected image of femininity, aligning it with typically masculine themes such as the lion and that the confident behaviour in the combination with the use of the text 'stupid has the balls' described her way of thinking."
It said neither showed any "provocative nudity beyond the usual amounts shown in many swimwear, sportswear or lingerie ads."

Whilst the ASA acknowledged that the posters did not show any full frontal nudity, it decided that they contained sexual undertones that were likely to be seen by children.
It said of the surveillance camera ad: "We considered that the image portrayed socially challenging actions that might be attractive to younger consumers who would be interested in the youthful and edgy fashion range and might encourage behaviour that was anti-social or irresponsible."
The ASA said the second poster with the lion is "likely to cause serious offence to many adults."
(Reporting by Chloe Wells; Editing by Steve Addison)
© Thomson Reuters 2022 All rights reserved.