Dolce & Gabbana start Milan shows with "extreme beauty"
By Marie-Louise Gumuchian
MILAN (Reuters) - Milan's menswear shows kicked off in style on Saturday 20 June with the first of the major Italian designer names duo Dolce & Gabbana looking for "extreme beauty" for next spring's fashion.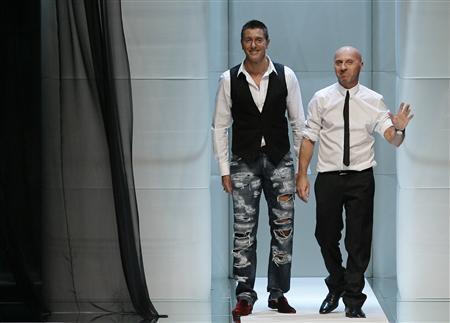 Their show was one of the first of some 40 catwalk runs during Milan's spring/summer 2010 menswear fashion week, which runs until Tuesday 23 June and comes amid hopes for a recovery for the Italian sector, hit by the global financial crisis.
With a heavy focus on embroidery, Domenico Dolce and Stefano Gabbana sent out male models in sparkling black jackets over black trousers that were rolled up to the ankle, as well as smooth silk shirts tucked into short, tight swimming trunks.
Italy's most famous designer duo said they paid homage to the "hedonistic beauty of a sartorial suit studied to its finest detail" from the proportions of the lapel to the fabric.
They put sparkling silver, gold and shiny black embroidery on jackets, scarves, trousers and velvet slippers as well as a comfy-looking dressing gown. They accessorized the look with caps, square-shaped sunglasses and small square-shaped bags.
Their blue and black jeans were ripped all the way down, revealing a second layer of material.
Brazilian model Jesus Luz -- whose name has been linked to singer Madonna -- led out models in black embroidered jackets and smooth trousers for evening wear.
Ermenegildo Zegna, known for its luxury suits, took a relaxed approach for next spring with "nomadic nature" theme.
It presented two or three piece tailoring, some with slim double-breasted jackets and loose trousers. Casual, short jackets were coupled with slimmer trousers, which were also topped with light overcoats and slightly oversized cardigans.
As accessories, models wore raffia hats, featherweight ties that resembled summer scarves and vintage-look sunglasses.
Some even had a harness-like coat carrier, made up of belts and worn over the shoulder. Zegna stuck to soft colors -- ivory, mauve, grape, sand sage and stone.
The group's Chief Executive Gildo Zegna told Reuters the consumption of menswear fashion had changed during the crisis.
"Men are going for a more deconstructed, soft look and this is why we had a very luxury casual fashion show," he said.
After a "frosty" start to the year, Italy's National Chamber of Fashion says some positive signals are emerging for the industry, with 15 percent more collections presented this week compared to the January winter shows.
© Thomson Reuters 2022 All rights reserved.