Dsquared² dress the Juventus team
The Italian football team Juventus has once again placed its trust in the Caten brothers, signing for the fourth consecutive year for the players' official non-playing outfit: a suit and trenchcoat, "a little less casual, trendier".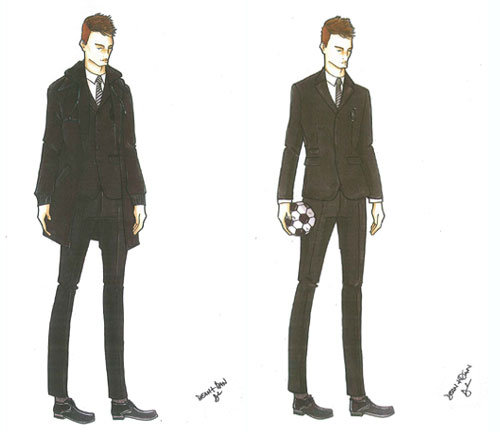 Sketch of the official non-playing uniform for Juventus football club from Dsquared² for autumn-winter 2009/2010
It was in 2006 that the club started its collaboration with the Canadian twins. "Dsquared² is a big and coherent brand which has a young cut in its clothes, rich in style and international," declared Marco Fassone, sales manager for Juventus when speaking at a press conference. "We could only have the best partners to associate with our image," he concluded.
For the upcoming autumn-winter 2009/2010 season emphasis has been placed on slim trousers and a tailored, 4-button jacket, both in black. The mid-thigh coat, also in black, will have three buttons with the inscription "Dsquared² for Juventus Football Club" on. Finally, on the accessories front, there are plans for a belt and shoes. The same style of outfit is planned for women as well.
The new agreement anticipates the delivery of 115 suits and will be provided for the players, technical staff and management team.
By Jonathan Fulwell (Source: Emilie-Alice Fabrizi)
Copyright © 2023 FashionNetwork.com All rights reserved.