Eddie Bauer files bankruptcy, gets $202 million offer
By Martinne Geller and Phil Wahba
NEW YORK (Reuters) - Outdoor apparel retailer Eddie Bauer Holdings Inc filed for bankruptcy for the second time in six years and said it would seek court approval to sell its assets to private equity firm CCMP Capital for $202 million.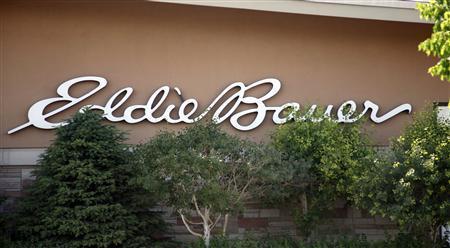 The company, which also sought relief under Canada's bankruptcy laws, filed for Chapter 11 protection in the U.S. Bankruptcy Court in Delaware.
CCMP is the "stalking horse" bidder, which submits a starting bid to set a floor under other possible offers.
CCMP managing director Jonathan Lynch said that Eddie Bauer was in the classic "good company, bad balance sheet" situation.
He said CCMP was attracted to the strength of Eddie Bauer's brand and its ability to sell its products through various channels, such as on the Internet, by mail order and in stores.
"We view Eddie Bauer as a legendary brand," Lynch said in an interview with Reuters. "What you need to do is fix the balance sheet in a way that allows this company to reach its full potential."
Eddie Bauer, which started as a sport shop in 1920 in Seattle, expects that the sale would transform the business "into a financially stronger entity with substantially less debt and a better position for the future," the company said in a statement. It also said that CCMP planned to keep most stores open.
Retailers have struggled in the U.S. recession.
Recent retail bankruptcies have included apparel retailer Filene's Basement and jewelry and housewares chain Fortunoff.
"The retail environment is a function of the overall economy and people are spending less and making smarter choices. The question is, do they need an Eddie Bauer?" said James Bromley, a partner in the restructuring group for law firm Cleary Gottlieb.
FINANCING
Eddie Bauer said it had secured $100 million in "debtor-in-possession" bankruptcy financing from a group led by Bank of America Corp and CIT Group Inc as it reorganizes, and anticipates its sale will be completed within 60 days.
In its filing, the company blamed its debt load, saying it might not be able to comply with conditions attached to its $225 million senior term loan facility.
Bank of New York Mellon Corp, as bond indenture trustee, is the company's largest unsecured creditor, with a $75 million claim, and Eddie Bauer listed $476 million in assets and $427 million in debts as of May 30, according to court papers.
Eddie Bauer has been posting losses on falling sales this year. The company said in January it hired investment banking firm Peter J. Solomon Co for restructuring advice and it has been working to cut costs and preserve cash.
The retailer emerged from Chapter 11 bankruptcy in 2005 after former owner Spiegel Catalog sought bankruptcy protection in 2003.
At the time of its emergence, the company had more than 400 stores in the United States and Canada. It now has about 370 stores in North America and 10,000 employees worldwide, according to its website.
The company said last month its first-quarter revenue fell 16 percent to $179.8 million. It has more than $300 million in outstanding debt, according to SEC filings.
Eddie Bauer's shares closed down 21.7 percent, or 5 cents, at 18 cents on the Nasdaq.
In re Eddie Bauer Holdings, Inc., U.S. Bankruptcy Court, District of Delaware, No. 09-12099.
(Reporting by Martinne Geller, Aarthi Sivaraman, Phil Wahba, Emily Chasan and Chelsea Emery; editing by Lisa Von Ahn, Andre Grenon, Gary Hill)
© Thomson Reuters 2022 All rights reserved.