Escada braces for critical bond swap deadline
FRANKFURT, Aug 10 (Reuters) - German luxury fashion house Escada (ESCG.DE) faces a critical verdict from bondholders on its rescue programme on Tuesday 11 August, and with just a day to go is still some way short of the support level needed.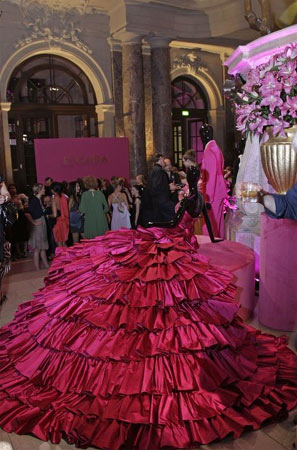 Escada at the Mercedes-Benz Berlin Fashion Week - Photo: Mercedes-Benz
The tender period to exchange 200 million euros ($287 million) of old bonds into new ones ends on Tuesday 11 August at 1300 GMT.
Results for the swap, in which bondholders have been asked to forego more than half of their investment, are expected on Wednesday 12 August at the latest.
Escada, known for dressing stars such as
Christy Turlington
and Katie Holmes, needs an 80 percent approval rate to launch the next step of its rescue plan, an almost 30 million euro capital hike.
But even after sweetening the offer and extending the tender period, Escada so far has still not reached the 50 percent benchmark, it said on Monday 10 August.
DZ Bank analyst Christian
Douglas
said in a note to clients he was sceptical that the target would be reached by Tuesday 11 August, in which case, "the worst-case scenario of an insolvency could come true in our eyes, because Escada will run out of cash during the days ahead".
Chief Executive Bruno Saelzer told Reuters in July that the company would be financially secure to the end of 2010 if it pulled off the plan to cut debt, which was 187.6 million euros at the end of April, raise cash and set up further credit lines.
INSOLVENCY ONLY ALTERNATIVE
Escada rose to prominence in the late 1980s and early 1990s, thanks to the colourful, eccentric designs of the late Margaretha Ley, who founded the company with husband Wolfgang in 1976.
In recent years, Escada has been struggling to sell its clothes, which some have labelled old fashioned, and the global recession has compounded its difficulties.
The first warning signs came in March when Escada posted a hefty 2007/08 loss, flagging it could run into difficulties if it failed to raise fresh cash in the next months.
Escada then launched the refinancing plan in April, which hinges on the successful bond swap.
"The only alternative would be Escada's insolvency," Saelzer said at the time.
Escada shares were up 4.9 percent at 2.37 euros at 0921 GMT, off a low of 1.64 euros touched in March but down from over 13 euros a year ago.
(Reporting by Eva Kuehnen, editing by Will Waterman)
($1=.6966 Euro)
© Thomson Reuters 2023 All rights reserved.