Escada gambles cash on speedy debt deal
FRANKFURT, June 19 (Reuters) - Stricken fashion house Escada (ESCG.DE) will gamble part of its shrinking reserves on persuading bondholders to sign up to a debt restructuring before it runs out of money, a source with knowledge of the situation told Reuters.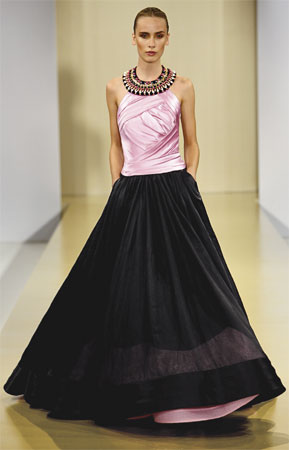 Spring-summer collection 2009 by Escada
To survive, Escada also needs to raise fresh equity capital, and the two-stage rescue could well drag on into August even if things run smoothly, the source said.
The firm, whose luxury gowns are worn by Hollywood stars such as Katie Holmes, previously warned it risked going bust as soon as next month. [nLS792224]
Escada has been struggling with falling sales as recession compounds the difficulties it is having selling its clothes, which some have labelled old-fashioned.
It was already in talks with all parties involved to secure operations until the rescue package was in place, the source added.
An Escada spokesman declined to comment.
Escada shares, which will drop out of the German small-cap index .SDAXI as of Monday 15 June, were unchanged at 3 euros by 0912 GMT.
EARLY BIRD
The cornerstone of the rescue is a successful exchange of a 200 million euro ($279 million) bond that matures in 2012. The swap would help slash the company's debts, which stood at 178 million euros as of Jan. 31.
The source said the bond offer, initially planned for late May or the start of June, would probably be launched the week after next.
Bondholders would get a cash incentive if they agreed to the swap within the first two weeks of the offer period, the source said, adding that Escada aimed for an 80 percent approval rate by the end of the early tender period.
A bond swap on average takes about four weeks.
Escada's current bond trades at about a third of face value, according to Reuters data, and the source said the new bond would be worth more than this but less than half the face value of its current debt.
Maturity would be five years, the source added.
After completing the bond swap, Escada could launch a rights issue with which it aims to raise 30 million euros. But this would take another three to four weeks, pushing the scheduling out to the beginning of August, the source said.
German billionaire brothers Wolfgang and Michael Herz -- who together hold 24.9 percent of Escada -- have said they are willing to inject about 20 million euros.
Another source familiar with the situation has said Spanish investor Bestinver Gestion would take up about 7 million euros of the capital increase.
(Reporting by Eva Kuehnen in Frankfurt and Christian Kraemer in Munich; editing by John Stonestreet)
(([email protected]; +49 69 7565 1244; Reuters Messaging: eva.kuehnen.reuters.com[email protected]))
($1=.7165 EURO) Keywords: ESCADA/BOND
(C) Reuters 2009. All rights reserved. Republication or redistribution ofReuters content, including by caching, framing or similar means, is expresslyprohibited without the prior written consent of Reuters. Reuters and the Reuterssphere logo are registered trademarks and trademarks of the Reuters group ofcompanies around the world.nLJ224457
© Thomson Reuters 2023 All rights reserved.