Escada says FY net loss higher than pvs year
FRANKFURT, Dec 18 (Reuters) - Escada's full-year net loss will widen, the German fashion house said on Thursday, citing a clear decline of sales in a difficult market environment and restructuring expenses.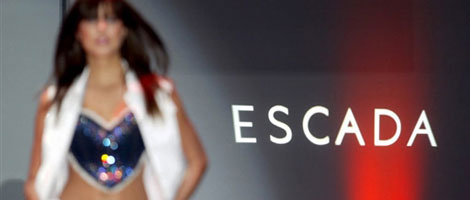 Escada - Photo : AFP
Sales dropped 15.1 percent in the fiscal year ended October to 582.5 million euros ($837.5 million), which it said reflected "the continuously worsening conditions for luxury fashion".
The economic downturn has made itself felt in the luxury goods sector despite its usual resilience in hard times. Escada, whose dresses can cost 800 euros and evening gowns 4,000 euros, is suffering more than others in the industry, as it is undergoing a period of restructuring and managerial transition.
"Escada's re-orientation takes place in a difficult market environment. Both customers and commercial partners are buying very reluctantly at the moment," Chief Executive Bruno Saelzer, the former head of Hugo Boss who took over in July, said in a statement.
Analysts expect it to post a loss next year as well. Larger luxury firms Richemont and Hugo Boss trade at 12.6 and 6.8 times forecast 2009 earnings, respectively.
Analysts note that 2009 will continue to be a year of operational challenges for Escada as restructuring continues, which means Escada has a higher risk profile than its peers.
The company posted full-year earnings before interest, tax, depreciation and amortisation (EBITDA) of 19.7 million euros, well below market expectations for 24.33 million euros, according to Reuters Estimates.
Escada had lowered its forecast for the third time this year in September, saying it expected EBITDA to be around 23-26 million euros.
Shares in Escada, which have fallen 83.3 percent this year, were indicated flat in pre-market trading, according to German brokerage Lang & Schwarz.
(Reporting by Sarah Marsh)
© Thomson Reuters 2022 All rights reserved.