Estee Lauder keeps forecast for now, despite Japan
March 18 - Estee Lauder Cos Inc stood by its fiscal-year forecast despite the impact the earthquake and aftermath in Japan may have on its business, but said it might reassess its expectations if conditions from the nuclear situation deteriorated significantly.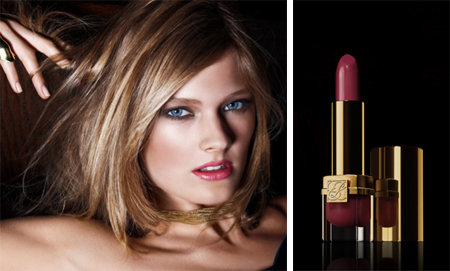 Estee Lauder 'Pure Color' lipstick
The events in Japan have created problems for the cosmetics maker's business there and for sales of its goods in Japanese airports, Chief Executive Officer
Fabrizio Freda
said in a statement on Friday.
Better-than-anticipated sales growth in some markets and more-favorable foreign currency translations are mitigating the impact of the earthquake in Japan, Estee Lauder said.
The company's shares were up 0.2 percent at $88.31 in early trading.
The company's employees in Japan are all safe, Freda said.
Estee Lauder did not specify how much of its sales come from Japan, but analysts have said that market accounts for about 4 percent.
The company said it still expected sales to rise 8 percent to 10 percent, stripping out currency fluctuations, in the fiscal year ending on June 30. The analysts' average revenue forecast of $8.61 billion compiled by Thomson Reuters I/B/E/S would be a 10.4 percent rise from fiscal 2010.
Estee Lauder still expects fiscal-year earnings per share of $3.20 to $3.43 including restructuring charges, and $3.40 to $3.60 excluding them. Analysts expect $3.67, according to Thomson Reuters I/B/E/S.
The New York-based company also said its long-term 2013 goals remained unchanged. It is aiming to increase its operating margins to between 13 percent and 14 percent by 2013.
(Reporting by Jessica Wohl, editing by Gerald E. McCormick and Lisa Von Ahn)
© Thomson Reuters 2023 All rights reserved.