Fast Retailing to open more low-price brand stores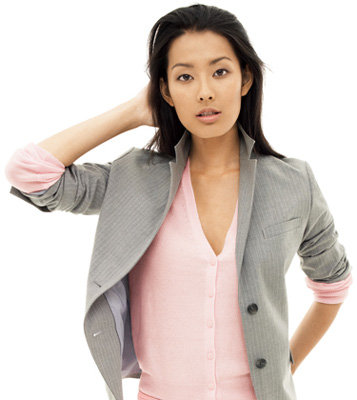 Fast Retailing - Uniqlo spring-summer 2009
* Aims for 200 low-price brand stores by Aug 2013 vs 56 now * Targets Y50 bln in sales from its g.u. chain by Aug 2013
* Fast Retailing shares rise 1.6 pct
By Taiga Uranaka
TOKYO, March 10 (Reuters) - Japan's Fast Retailing (9983.T), operator of the Uniqlo casual clothing chain, said it will more than triple the number of its low-price g.u. clothing stores over the next four and a half years.
CEO Tadashi Yanai said the recession -- which some analysts say may be Japan's longest in modern history -- would be a boost for the cut-rate chain, which sells items for half the price or less of what is charged at its Uniqlo stores.
"When salaries don't rise, it's a human inclination to want to buy things as cheaply as possible," Yanai told reporters at a strategy briefing on Tuesday.
Fast Retailing, which operates a network of more than 800 Uniqlo stores mostly in Japan, has been one of the few retailers able to thrive as the world's second-largest economy falls deeper into recession, attracting cost-conscious customers with its comparatively cheap but novel offerings of basic apparel.
In a bid to increase the price appeal of the g.u. chain, which is often seen as Uniqlo's answer to Gap Inc's (GPS.N) Old Navy chain, the company said the chain would cut prices further, including those of jeans.
At 990 yen ($10) a pair, its jeans cost a quarter of those at Uniqlo. Yanai said sales of what he called the cheapest jeans in the market are likely to be "explosive" and to easily top its annual target of 500,000 pairs.
The company said it plans to increase the number of g.u. stores to 200 by August 2013 from the current 56, and aims for 50 billion yen ($506 million) in sales from the chain for the year ending in August 2013.
The company opened its first g.u. store in 2006 but the lower-priced brand has not grown as well as it hoped.
MORE THAN THRIFT
Amid a worsening retail slump that has battered department stores and other retailers, Uniqlo posted hefty same-store sales growth of 12.9 percent for the six months ended in February.
But Yanai said his company was not only chasing the thrift market but also seeking to expand in the upscale fashion segment.
"We are thinking about doing all, from low price to high price," he told reporters. He declined to comment when asked if the firm has any specific acquisition target in mind.
In January the company said it would buy out its affiliate Link Theory Holdings (3373.T) for 29.6 billion yen. The firm runs "Theory" brand stores.
Fast Retailing shares ended up 1.6 percent at 9,130 yen on Tuesday, compared with a 0.4 percent decline in the Nikkei average .N225. ($1=98.88 Yen) (Additional reporting by Sachi Izumi; Editing by Michael Watson)
© Thomson Reuters 2023 All rights reserved.