French Connection eyes FY profit despite H1 loss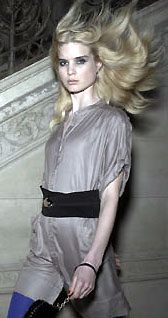 French Connection automne-hiver 2008/2009
LONDON (Reuters) - French Connection Group chief operating officer Neil Williams said on Friday he expected the fashion retailer and wholesaler to make a full year profit despite posting wider first half losses.
He said he is comfortable with house broker Numis' forecast for pretax profit of 0.5 million pounds for the year to end-January 2009.
"We would hope to hit that Numis forecast," he told Reuters after the group posted a pretax loss of 3.5 million pounds for the six months to July 31.
Last year the group made a full year profit of 3.1 million pounds.
Having maintained the interim dividend at 1.7 pence, Williams is hopeful the total payout for the year will be kept at 5 pence, at a cost of 5 million pounds, despite being uncovered by earnings.
He said the group ended the first half with net cash of 34.8 million pounds.
(Reporting by James Davey; editing by Rory Channing)
© Thomson Reuters 2021 All rights reserved.