French Connection posts bigger H1 loss
LONDON (Reuters) - Fashion retailer and wholesaler French Connection on Friday posted a larger first-half loss citing a "significant downturn" in its core markets, sending its shares down more than 3 percent.
The group, in common with a raft of UK retailers such as Next and DSG International , was cautious on the macroeconomic outlook, but said it still expected to make a full-year profit and was hopeful of maintaining its annual dividend payout despite it being uncovered by expected earnings.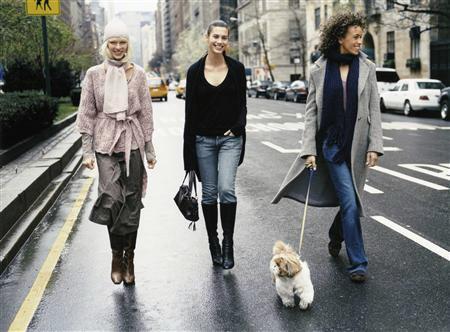 Chief Operating Officer Neil Williams told Reuters he was comfortable with house broker Numis' forecast for pretax profit of 0.5 million pounds for the year to end-January 2009.
For the six months to July 31, the group, which trades in the United States and Asia as well as the UK, made a pretax loss of 3.5 million pounds versus a loss of 2.5 million pounds in the same period last year. Turnover rose 3 percent to 112.4 million.
Offsetting the loss was a 1.9 million pound gain on the disposal of leased property.
Stephen Marks, the group's founder, chairman and 42 percent shareholder, said in a statement the results were disappointing.
"It would appear that the economic environment is unlikely to improve in the short-term and that therefore any gains we make will have to be achieved through significant out-performance by our ranges," he said, adding that the business is looking to cut costs where possible.
Many UK retailers are struggling as consumers curb spending due to higher fuel, food and mortgage costs. Fashion retailers have also had to cope with two consecutive summers of dismal weather.
On Wednesday, Next, the No.2 clothing retailer by sales value, reported a 12 percent slump in first-half profit.
Marks took some encouragement from the performance of womenswear, which achieved retail like-for-like sales growth in both the UK and North America of 8 percent. In menswear he expected a new design team to improve second-half sales figures.
He said recent retail trading in the UK and Europe had shown growth over last year, but North America had been softer.
The group maintained its interim dividend at 1.7 pence, having ended the first half with net cash of 34.8 million pounds.
"With substantial net funds French Connection has the luxury of time to pursue a sales-led turnaround," said analysts at Numis in a research note.
With the group having made a profit of nearly 40 million pounds just four years ago, Williams was confident management could effect a turnaround.
"Our key target is to get to a 10 percent operating margin ... and we think that is definitely achievable," he said.
He said Marks had "made no indication" that he will move to take the group private.
At 11:36 a.m. shares in French Connection were down 2.0 pence at 63.5 pence, valuing the business at 61.5 million pounds.
The stock has lost 62 percent of its value over the last 12 months, having underperformed the FTSE All Share General Retailers Index .FTASX5370 by 34 percent.
(Reporting by James Davey; Editing by Jon Loades-Carter)
© Thomson Reuters 2021 All rights reserved.