Frey Wille to open stores in London and New York
Frey Wille will be celebrating Christmas as well as its 60th anniversary with the launch of new stand-alone stores in two key cities. The boutique in London will be located at 45 Piccadilly, strategically placed opposite Fortnum and Mason and next to the Royal Academy of Arts. The Austrian jeweller has chosen the up-scale Madison Avenue to inaugurate its first New York store.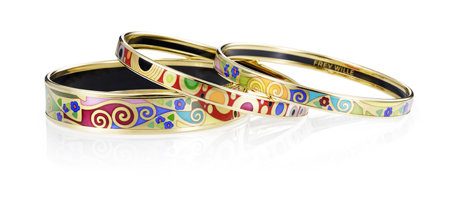 Frey Wille's latest collection HOPE
Founded in Vienna in 1951 by Michaela Frey, the fine enamel jewellery manufacturer has attracted jewellery fans and art enthusiasts from across the world since the 1950s. Fans in London can already start looking forward to the opening which, according to its Piccadilly store manager, Pia Bittner, should be launching the week starting December 6th. Customers in New York will have to wait a little longer until February 2011.
Both the charming 39 m² (128 sq. ft.) boutique in London and the extensive 883 sq. ft. (269 m²) shop in New York will stock a variety of Frey Wille's fine enamelled jewellery and artistic creations. Perhaps most famous is the "Artist's Collections", inspired by Claude Monet, Gustav Klimt, and Hundertwasser. They will also include Frey Wille's own artists' collections Ode to Joy of Life, and the exclusive
Hope
and Nixe. Accessories such as evening bags, pure silk scarves, tie clips and cufflinks will also feature.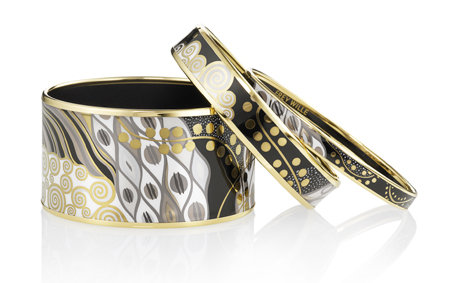 Frey Wille's latest collection NIXE
The new Piccadilly store layout has been created by Frey Wille's head of design Simone Grünberger-Wille and Japanese architect Miyako Niarz. The latter previously designed the London Sloane Street boutique, as well as other stores in Cannes, Madrid, Vancouver, and New York. This time, transparent structure and elegance have been the focus when creating the new store's interior, even incorporating a special seating area for customers to relax and appreciate the collections.
The new addresses in London and New York will be key anchors in these markets and represent two important additions to Frey Wille's existing network of over 70 stores worldwide. Friedrich Wille, an entrepreneur and accountant, has headed the Austrian jeweller since 1970, which currently employs 450 people.
by Marina Felippe
(Additional reporting by Christian Layolle)
Copyright © 2023 FashionNetwork.com All rights reserved.