Gap brand looks to New York for creative focus
SAN FRANCISCO (Reuters) - Gap Inc (GPS.N) will make New York City the creative hub for its namesake stores as part of widespread changes to revive growth and make its clothing popular again.
The company, whose efforts to turn around its underperforming Gap unit have led to mixed results, also said it would merge the management of its outlet stores into the Gap and Banana Republic brands.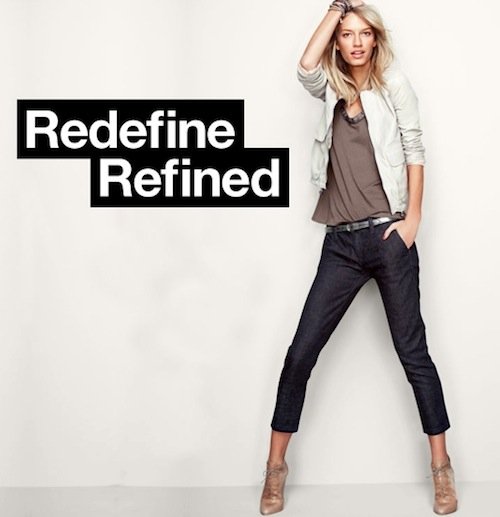 gap.com
In addition, Gap on Wednesday named Art Peck, who heads the outlet unit, as the new president of Gap North America, replacing Marka Hansen.
Gap also said that Pam Wallack, who currently runs the Gap brand's adult business in North American, would move to New York and become head of the company's global creative center there, which will encompass design, marketing, fashion public relations and production.
The chief designer for the Gap brand, Patrick Robinson, has always been based in New York with his team, but marketing has been based in San Francisco until now.
The company named ad executive Seth Farbman as its new chief marketing officer, and Ogilvy & Mather -- where Farbman was a worldwide managing director -- will become the brand's new advertising agency, Gap said.
Peck has a background in consulting and is not known as a merchant, as Hansen was. But Hansen's attempts to introduce more compelling merchandise were inconsistent, and the company may be signaling that the brand needs more than just help with merchandise.
"While Art Peck's lack of experience as a retailer could be seen as a negative, the opposite could be equally true; that his relative newness to the industry enables him to bring a fresh perspective," wrote Stifel Nicolaus analyst Richard Jaffe in a note to clients.
Others agreed that a shake-up was necessary.
"The Gap division is a big ship and in order to see meaningful change, it requires big moves like the ones announced today," wrote RBC Capital Markets analyst Howard Tubin in a note.
Shares of Gap were down 2.4 percent at $19.06 in afternoon trade on the New York Stock Exchange.
(Reporting by Alexandria Sage in San Francisco and Mihir Dalal in Bangalore; Editing by Prem Udayabhanu and Steve Orlofsky)
© Thomson Reuters 2023 All rights reserved.