Gap profit beats Street, PacSun disappoints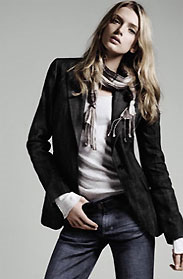 Gap Denim
By Alexandria Sage
SAN FRANCISCO (Reuters) - Gap Inc reported a 50 percent jump in quarterly net income on Thursday, beating Wall Street estimates, as cost-cutting, lower inventories and other moves that boosted profit offset declining sales at its family of clothing stores.
Same-store sales, a key measure of retail health, fell 10 percent at Gap and also were down at apparel retailers Wet Seal Inc , Bebe Stores Inc and Pacific Sunwear of California Inc , as summer shoppers, stunned by higher grocery and gas prices, reeled in spending.
Like many other retailers, apparel chains have struggled to attract shoppers in a sputtering U.S. economy.
Teen retailer Aeropostale Inc , however, bucked the trend as popular and low-priced back-to-school offerings sparked a same-store sales increase of 11 percent.
Shares of Gap Inc, which owns the Gap, Old Navy and Banana Republic chains, rose 4 percent in after-hours trading as investors cheered improved profit margins. The stock has been hard-hit this year, down more than 10 percent as of Thursday's close.
"Retailers awhile ago recognized how tough it was out there, and how tough it's going to be, and went into defense mode," said Stifel Nicolaus analyst Richard Jaffe, citing a list of aggressive spending measures Gap has taken including cutting store growth. "Every lever you can pull to reduce your exposure and protect your profits, you must do."
Gap, one of the largest apparel retailers in the world with over 3,000 stores, has been trimming costs, reducing inventory and streamlining operations to shore up its business. It has suffered through years of sliding sales due to strong competition and its own fashion miscalculations.
The company said second-quarter net income rose to $229 million, or 32 cents per share, from $152 million, or 19 cents per share, a year ago. Analysts had forecast a profit of 31 cents per share, according to Reuters Estimates.
Sales fell 5 percent to $3.5 billion in the quarter, roughly in line with the nearly $3.51 billion expected by Wall Street.
Same-store sales fell 6 percent at both Gap and Banana Republic stores, 16 percent at Old Navy and 6 percent at international stores.
"It's unacceptable we have been on this trajectory for a number of years," Gap Chief Executive Glenn Murphy said on a conference call with analysts, adding that the retailer will be more aggressive in spurring traffic when it better aligns marketing, brand positioning, and product in its stores.
Murphy gave a dour view for the remainder of the year, however.
"We don't see any reason for any optimism in the back half of the year," he said, adding that the company was conservatively managing its business.
Gross profit margins increased in the quarter and the company said fiscal 2008 operating profit margins would now be higher than earlier estimates.
Inventory levels per square foot fell 17 percent in the quarter and operating expenses fell 7 percent, Gap said.
AEROPOSTALE BUCKS TREND
Elsewhere, Pacific Sunwear, which has struggled in recent years to recapture its former success with teens looking for surf-inspired looks, said net income from continuing operations fell 60 percent, in line with the expectations of analysts.
But the retailer's shares dropped nearly 23 percent after its earnings forecast for the balance of the year fell short of estimates.
Pacific Sunwear forecast third-quarter earnings from continuing operations of nil to 5 cents per share, well below analysts' call for earnings of 23 cents per share.
Aeropostale's second-quarter net profit rose almost 44 percent to match Wall Street's estimate after its back-to-school merchandise was "positively received" and same-store sales increased 11 percent.
The company, popular for its relatively low prices, also said it was well positioned for the second half of 2008.
Gap shares rose to $19.70 in after-hours trading from their close of $19.01 on the New York Stock Exchange.
Aeropostale shares fell to $33 in after-hours trading after finishing at $34 on the New York Stock Exchange, while Pacific Sunwear shares fell to $6.00 from their Nasdaq close of $7.78.
(Additional reporting by Lisa Baertlein; editing by Carol Bishopric)
© Thomson Reuters 2023 All rights reserved.