Gaspard Yurkievich works for Sebago
If the "bateau" model for men has had a great many artistic collaborators, the women's version has led a much more sheltered existence. Until it met Gaspard Yurkievich. Having already introduced the men's versions on the runways of his men's shows, the designer had revisted the shape in his first women's collection for the brand. The result is a union made in heaven.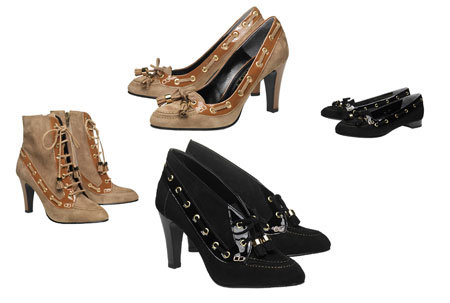 Sebago model by Gaspard Yurkievich for Fall-Winter
"We have not done right by women," said Laurence Bry, director of marketing at
Sebago
, "women have three times less the selection than that offered to men". In other words, something had to be done, but without betraying the house and its vision. Which has brought about the collaboration, which originated in France, with Gaspard Yurkievich who was habituated to designing for men but who was also active in the arena of women's shoes.
A subsidiary of the U.S. giant
Wolverine
, the French organization that manages
Caterpillar
, among others, will focus primarily on France, the first market for the brand in Europe, then on other European countries and eventually build upon the success of the collaboration in order to attract teams from overseas.
Models in black or beige are already available this winter, in a heel or flats. It is a pre-collection in a certain sense, an attempt to feel the pulse of the public and buyers. It is with next summer's collections that Sebago intends to pack a punch and offer real options for women. Thus, sixteen models have been created by Gaspard Yurkievich: flats, heels, wedges. "I wanted to play with color blocking, tangy shades of pink, yellow, ...complementary," said the designer who wanted to "feminize, glamouriser the selection." A relatively simple task, according to him. For this occasion, he has also donned two hats – that of designer, certainly, but also that of supplier. "Sebago had no factories to produce the models, so I went to my producers and I assured production."
As sales, these will rely on two networks: that of the designer and that of Sebago. As Laurence Bry said, "we have already opened new accounts thanks to this collaboration. We are targeting a dozen shoe-manufacturers in France and sixty multibrands that meet our criteria."
Copyright © 2023 FashionNetwork.com All rights reserved.