Givaudan sees good Q4 after 9-month sales rise
ZURICH, Oct 8 (Reuters) - Fragrance and flavour-maker Givaudan (GIVN.VX) struck an upbeat note for the rest of the year after its sales rose in the first nine months thanks to strong demand in both emerging and developed markets.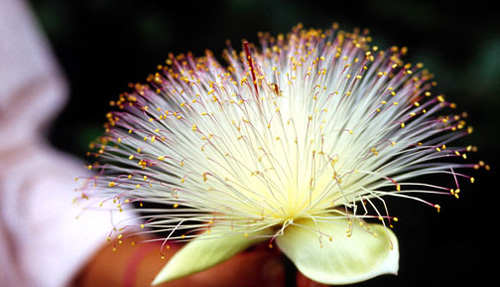 Barringtonia flower. Photo : Givaudan
The company, which makes artificial flavourings for food and the scents used in the perfumes of such fashion houses as
Dior
(DIOR.PA) and
Prada
, said it was confident of achieving its full-year targets.
"The message is that the consumer is not quite as bad as you'd expect," said Kepler analyst Jon Cox, adding that the figures had been a positive surprise for him.
Shares in Givaudan were down 0.3 percent at 1106 GMT, broadly in line with the Swiss midcap index .SMIM.
Givaudan's outlook is similar to those of rivals
Symrise
(SY1G.DE) and
International Flavors & Fragrances
(IFF.N), which also have experienced a boost to business due to better consumer spending.
The traditional chemical industry overall is projecting a positive end to 2010 after a tough few years of restructuring to cope with competition from Asia.
Givaudan and its rivals have not been hit as hard because their products are more consumer focused and people are starting to spend more on higher end food and luxury items.
Givaudan is aiming for sales growth above 5 percent in local currencies and an EBTIDA-margin of 22.7 percent, which Cox said were somewhat conservative goals given trading thus far.
"They will be above that 5 percent level, probably closer to 8 or so percent," Kepler analyst Cox said.
Givaudan said nine-month sales rose 8.5 percent in Swiss franc terms to 3.28 billion francs, against 3.27 billion Swiss francs in a Reuters poll of analysts.
(Editing by Karen Foster)
© Thomson Reuters 2023 All rights reserved.