Gucci collaborates with Al Tayer Insignia
Gucci has announced a direct entry into the United Arab Emirates through the establishment of a joint venture with Al Tayer Insignia, the largest luxury retailer in the Middle East. The joint venture will be headquartered in Dubai and will take the brand's longstanding relationship with Al Tayer Insignia to a new level of collaboration.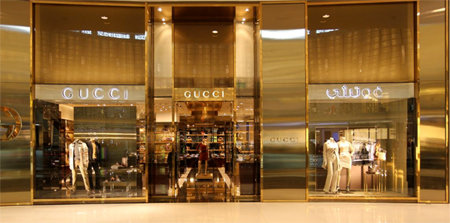 Gucci store at The Dubai Mall
As a result of a multiyear franchise relationship with Al Tayer Group spanning over a decade, Gucci currently counts 6 points of sale in the UAE: 1 in Abu Dhabi and 5 spread across key locations in Dubai (2 of which can be found in
Harvey Nichols
and
Bloomingdale's
).
Part of Al Tayer Group, Al Tayer Insignia represents over 35 of the world's most renowned luxury brands and operates nearly 80 stores in the region. The company currently employs over 1,600 people and also has operations in Bahrain, the Kingdom of Saudi Arabia, Lebanon and Qatar.
Patrizio di Marco
, President and CEO of Gucci, said: "We are extremely proud to announce this new agreement with our long standing partner in the Middle East. This is a dynamic region of the world, where Gucci products have been appreciated for many years thanks to the brand's unique balance of luxury heritage and fashion authority."
Founded in Florence in 1921, Gucci is today one of the world's leading luxury fashion brands. With a renowned reputation for quality and Italian craftsmanship, the brand currently operates 317 stores worldwide. Di Marco added, "Today, in the year of our 90th anniversary, we intend to continue increasing our retail presence around the world".
Copyright © 2023 FashionNetwork.com All rights reserved.