By Deepa Babington
ROME (Reuters) - Billowy summer dresses pinned with gold shells and flared trousers from a bygone era of languid glamour dominated Gucci's pre-spring show at a 17th century hilltop villa in designer Frida Giannini's native Rome.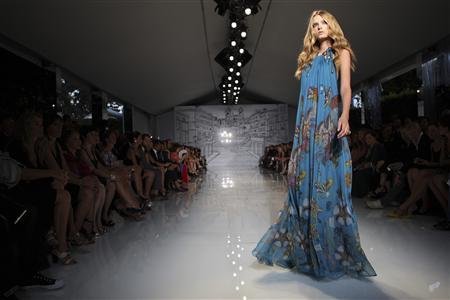 Gucci is one of a growing line of fashion houses showing off a "cruise wear" or pre-spring collection in addition to summer and winter wear, eyeing the line as an important niche to keep customer interest in a global economic downturn.
"Everyone is doing cruise (collections) because customers and the market are now very demanding and people need to always have fresher pieces and new things in the store," Giannini said before the show, which was watched by actress Claire Danes.
Her show follows similar cruise wear parades by Christian Dior at a sleek New York restaurant, Chanel in Miami Beach, and Diane von Furstenberg in a lush Florentine garden last month.
Giannini normally unveils her cruise collections in New York, but opted for Rome, where she was born and raised, to celebrate the 70th year of the brand's flagship store there. Five of the dresses shown will only be sold at that store.
Models decked out in flowery prints and peppermint stripes took to the runway with oversized python-print bags in hand, chunky wedges on feet and cord belts tied at the waist.
Wide-leg white trousers paired with fitted jackets bearing metal buttons alternated with a mustard pantsuit and dark-blue or beige slacks. Breezy dresses in colors like saffron and turquoise flared out from the chest, often cinched at the waist or the neck with golden shells.
"I had in mind for this collection a very precise image of Talitha Getty in the 1970s on her terrace of her villa in Marrakesh," Giannini said, referring to the iconic photograph of John Paul Getty's actress wife who represented Bohemian chic.
"So I had very long kaftans, very printed and colorful embroidery ... all this mixed together represents this idea of colorful, of play and hippy chic."
Off the shoulder and one-sleeved blouses made an appearance, as did a bright orange short dress with puffed sleeves gathered at the elbow and a shimmery, gold-flecked ankle-length number.
Jackets were trimmed with leather on side pockets, while one featured a hoodie and another was paired with slouchy shorts.
Gucci's show coincided with Rome's high fashion week this week, and concluded with an open-air dinner and music bash in the villa gardens. The brand is owned by French retailer PPR.
(Writing by Deepa Babington; editing by Elizabeth Piper)
© Thomson Reuters 2023 All rights reserved.