Gucci launches its "flash store" dedicated to trainers
Gucci has launched the Gucci Icon-Temporary, an ephemeral boutique dedicated to the world of trainers. For the opening of this unique "flash" store, which will travel the world in October, Frida Giannini the director of design at Gucci has teamed up with Mark Ronson for the creation of a limited edition collection of Gucci Ronson trainers.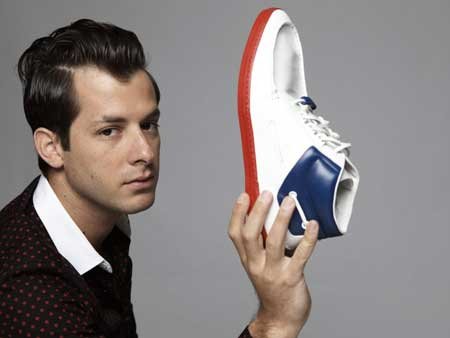 Marc Ronson holding a Gucci Ronson trainer
"From the moment I sat down with Mark [Ronson], we were on the same wavelength. He has an extraordinary eye for design and an amazing knowledge of the history of trainers. He is an artist whose influence is intercultural and intergenerational," explained Frida Giannini. For British musician Mark Ronson, who has worked alongside singers such as Lily Allen and Amy Winehouse, this project should include a musical element, "I am also going to collaborate with artists and come up with limited edition pieces for each boutique opening," he stated. To this end, each customer will receive a 33rpm vinyl record produced by Mark Ronson with each purchase of an item from the Gucci Ronson line.
The new Gucci Ronson line will accompany the exclusive release of 18 models from the Gucci Icon-Temporary line (16 models for men and 2 for women). Each of these models will come with identifying plaques in silver or gold as well as an embroidered label. To complete the "personalization" process, the initials of the customer can be engraved on a leather label and the trainers will be presented in packaging that will be created exclusively for each city visited by the international tour.
New York will welcome the first Gucci Icon-Temporary boutique on the 23rd of October on Crosby Street, where it will remain for two weeks before heading to Miami's Design District for December, followed by London, Tokyo, Paris and Hong Kong in 2010.

By Jonathan Fulwell (Source: Sarah Ahssen)
Copyright © 2023 FashionNetwork.com All rights reserved.