Guess continues its development
Denim brand Guess has opened a flagship store in London and is planning for further openings in hundreds of locations across Europe in 2010.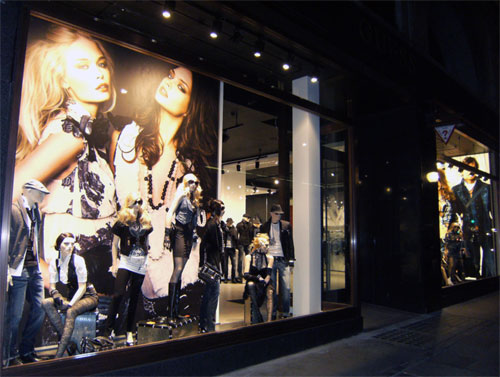 Guess on Regent Street in London
The new boutique's inauguration was the event of the weekend with a crowd flocking to Regent Street. For the occasion, a retrospective collection of photographs from the brand's history had been prepared, showing images from advertising campaigns over the last thirty years that had contributed to the label's success.
Estelle Lefébure, Claudia Schiffer, Naomi Campbell,
Eva Herzigova
and Anna Nicole Smith, among others, were all represented in a series of black and white photos that are only being shown for a period of three days. These huge names from the world of fashion have all played a part in the Guess story.
Launched at the beginning of the 1980s, Guess aimed to release clothing inspired by the quintessential American 'Pin-Up'. This goal altered the perception of denim, which had hitherto been quite basic, with the dissemination of collections that were both sexy and timeless.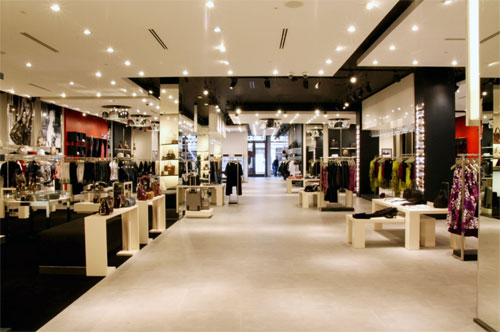 Interior of the Guess boutique on Regent Street
Coming back to London, the store covers 600 metres squared and houses both menswear and womenswear, with wall decorations entirely dedicated to the world of denim as well as showcasing the season's "must have" items. Accessories are also on display around the store and include bags, shoes, glasses, jewellery and a space for the label's timepiece label GC.
This opening will be followed by many more, above all in Europe, over the course of 2010. These openings are a strategy to combat falling sales and client numbers in Guess boutiques in the USA, the brand's principal market, and to capitalise on the current strength of the euro.
Furthermore, the brand has seen continual growth in Europe in recent years. In an interview with the Figaro, a national newspaper in France,
Paul Marciano
– the director general of Guess – and his brother Maurice explained that "turnover on the continent has gone from $60 million to $500 million in four years. Our objective is to reach $1 billion by the end of 2011."
By Jonathan Fulwell (Source: C. Vautard)
Copyright © 2023 FashionNetwork.com All rights reserved.