H&M now on the Champs-Elysées
Two years after finally obtaining approval from France's State Council and following several years of negotiations, H & M finally reveals itself on the Champs-Elysees (Draco Partners dealt with the transaction on behalf of SFL, France-based commercial real estate company). The opening is scheduled for October 6. An advertising campaign is taking shape around the city right now. The brand covers over 2800 metres squared, designed by Jean Nouvel. As its openings are increasing (there will be 145 outlets in France by late November, and about twenty are planned for 2011), the famous street's flagship is said to be "spectacular". "We want this to be THE destination for everyone interested in fashion and interior design enthusiasts. It has its own personality while still allowing a focus on clothes," says Ann Sofie Johansson, Director of Style.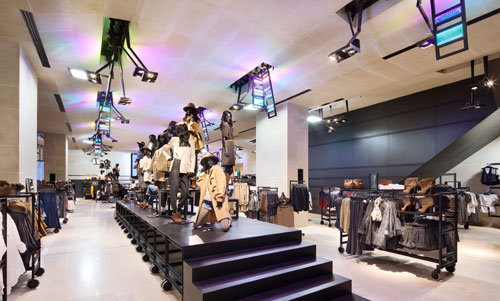 Inside H&M on the Champs-Elysées - Photo: Luc Boegly
The grand windows invite passersby to discover the place that the French architect has created, "different from a traditional store. Here has an infrastructure, a welcoming space that belongs to the heart of the city, curb, which expands to break the boundary between outside and inside," he says, describing the stone veneer, "wanting it as large as possible, as spacious as possible".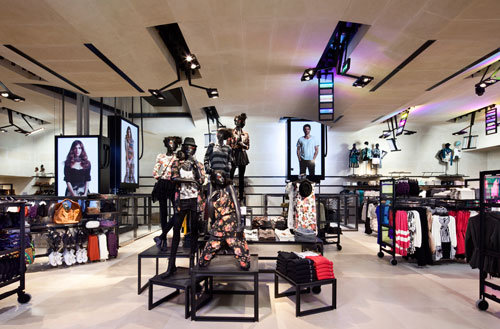 H&M's basement on the Champs-Elysées - Photo: Luc Boegly
The ground floor and basement are dedicated to womenswear. Menswear lives on the first floor, no kidswear available. To navigate from one floor to another, you climb a wide staircase, an elevator, escalators; choices are in abundance. There are even giant screens that go up and down, stopping visitors that pass by, displaying the season's latest designs. Racks and displays mostly map out the movement of the store, perching themselves on wheels. The lighting is white and coloured (pink, green ...), wide spread and spot lighted, depending. In the changing rooms, these can be adjusted, just as the second mirror placed behind you, to better visualise the selected clothing item.
Installed at 88 Avenue des Champs-Elysees, the company employs 250 people (including part-time).
Original by Julie Manguad. Translated by Rosie Hart
Copyright © 2023 FashionNetwork.com All rights reserved.