Hanesbrands Q3 profit falls, says Q4 sales may decline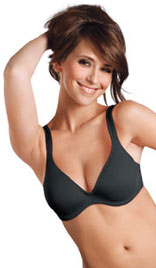 www.hanesbrands.com
* Hanesbrands Q3 profit down 59 pct
* Q3 includes $28.4 mln restructuring charges
* Says Q4 sales will most likely decline
* CEO optimistic about Q4 earnings potential (Adds conference call details)
Oct 29 (Reuters) - Underwear maker Hanesbrands Inc posted a 59 percent fall in third-quarter profit, partly hurt by restructuring charges, and said it would raise domestic prices effective mid-first quarter of 2009.
The company, whose brands include Hanes, Bali, Champion, Playtex and Wonderbra, said it is taking an average gross price increase of 4 percent for domestic product categories.
Hanesbrands posted net income of $15.9 million, down from $38.9 million a year ago.
Hanesbrands, which last month announced plans to close nine North American plants, recorded restructuring charges of $28.4 million for the quarter. It also incurred charges related to the bankruptcy of California-based retailer Mervyn's LLC.
Excluding items, the company earned 56 cents a share, beating Wall Street estimates by 1 cent.
Chief Executive Officer Richard Noll said sales will most likely decline in the fourth quarter, but he was optimistic about the company's earnings potential.
Hanesbrands will benefit from increased savings, which will more than offset higher commodity costs, Noll said in a conference call with analysts.
The company said selling, general and administrative expenses for the fourth quarter may be $15 million to $20 million lower, partly helped by cost-reduction efforts. Interest expense and taxes will also remain favourable, it said.
The Winston-Salem, North Carolina-based company expects capital spending of $180 million for 2008.
Shares of the company closed up 4 percent at $13.81 Wednesday on the New York Stock Exchange. (Reporting by Dilipp S Nag in Bangalore; Editing by Vinu Pilakkott)
© Thomson Reuters 2023 All rights reserved.