Hermes CEO "rather pessimistic" on next 15 months
PARIS, Oct 7 (Reuters) - French luxury group Hermes (HRMS.PA) will see high single-digit growth in its turnover for 2009 at current exchange rates, its CEO told Reuters on Wednesday 7 October.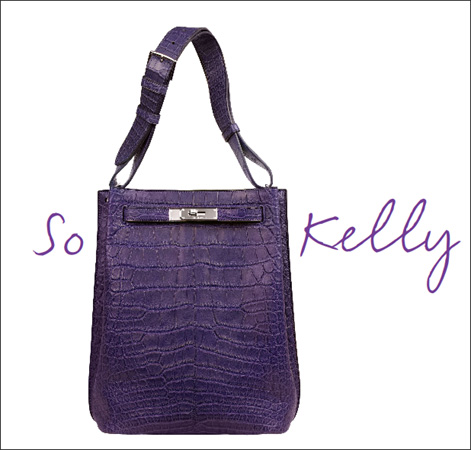 So-Kelly Hermès handbag
Speaking to Reuters ahead of the Hermes spring/summer 2010 womenswear show on Wednesday 7 October, CEO
Patrick Thomas
gave a downbeat longer-term outlook.
"My expectations for the 15 months to come are rather pessimistic. We are in the middle of the crisis and unfortunately there is no massive bounce to be expected in the short-term."
Referring to his expectations of 2009 sales, Thomas said the year "will be at the top (of single digits) at current exchange rates; at constant exchange rates it will be in the low digits, slightly positive I hope."
The group was continuing to open stores at the same rate as before," Thomas said. "We are keeping the trend." Thomas added that the company had no plans for acquisitions.
Shares in Hermes closed down 0.36 percent on Wednesday 7 October, before Thomas' comments, in line with a CAC-40 index down 0.37 percent.
Earlier on Wednesday 7 October, French fashion and leather goods company Louis Vuitton, part of luxury group LVMH (LVMH.PA) had said it was "very optimistic" about Christmas sales.
For a story on the fashion shows, click on
(Reporting by Marie-Louise Gumuchian; Writing by Helen Massy-Beresford; editing by Elaine Hardcastle)
© Thomson Reuters 2023 All rights reserved.