Hermes fires back at share buyback criticism
August 4 - Hermes on Wednesday hit back at questions from minority shareholder association Adam regarding the luxury company's share buybacks at high market prices.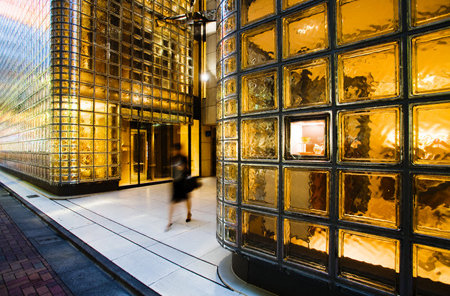 Maison Hermes building by Renzo Piano in Ginza, Tokyo
Adam asked on Tuesday why Hermes was spending heavily to buy back shares when the stock was reaching new highs nearly every week. The shareholder group also questioned whether the move was in the interest of all shareholders.
Adam is already mounting a court challenge to Hermes's plan to create a holding company to defend itself against what it fears are the takeover intentions of larger rival LVMH.
Since June, Hermes, best known for its silk scarves and high-end leather bags, has spent 114.5 million euros, or 14 percent of its end-year cash reserves, on share buybacks.
Hermes blamed LVMH, which already owns 21.4 percent of the company, for drying up the market by continuing to build up its stake, a process it unveiled last autumn.
Hermes's free float is estimated by analysts to be now less than 5 percent.
"The share buyback is to cover our employee share attribution scheme," a spokeswoman for Hermes said.
"The continued acquisition of Hermes shares by LVMH forces Hermes to take precautions to be able to honor its commitments to its employees," she added.
Adam, which has also questioned whether some of the shares being purchased on the market could be from members of the company's controlling family, did not have any immediate reply to Hermes' statement.
Hermes shares on Wednesday fell 3.4 percent, while the French CAC 40 index of blue chips .FCHI lost 2.1 percent in a world-wide sell-off.
Hermes shares have soared 50 percent this year, reaching a high of 247.95 euros on Monday, in a falling market, getting close to the 250 euros price limit the company set itself in its buyback program.
Hermes today is worth 25.5 billion euros, or about as much as France's second largest bank Societe Generale and about twice as much as Carrefour, the world's second-biggest food retailer.

(Reporting by Astrid Wendlandt; Editing by Will Waterman)
© Thomson Reuters 2023 All rights reserved.