Hermes sees luxury market suffering 2 years
PARIS (Reuters) - Hermes (HRMS.PA) believes turbulence could hit the global luxury goods industry for the next two years and has put some expansion plans on hold, the French fashion and leather goods group said on Monday 8 June.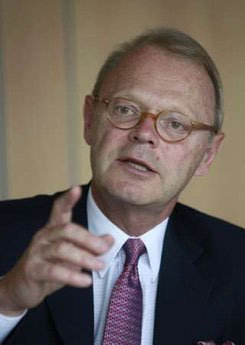 Patrick Thomas, Chief Executive of luxury goods firm Hermes, attends the Reuters Global Luxury Summit in Paris on June 8, 2009. REUTERS/Pascal Rossignol
"In my opinion, turbulence will last rather long, maybe two years," Hermes Chief Executive
Patrick Thomas
told the Reuters Global Luxury Summit in Paris.
The world's second-largest luxury goods group behind LVMH (LVMH.PA) in terms of market value said it had postponed the opening of two shops in China and two leather goods plants in France.
As a result, the investment budget has been cut to 160 million euros ($221.3 million) from 180 million initially, Thomas said.
Sales will remain stable this year at constant exchange rates, he said. This would lead to a drop in the operating profit margin of "between 0 and 1 percentage point."
While he expressed caution about the short term, Thomas said Hermes remained confident it would return to its historical sales growth level of at least 10 percent at current exchange rates.
He added that the group was not looking for acquisitions as it was satisfied with its current internal growth rate.
($1=.7230 Euro)
(Reporting by Astrid Wendlandt and Pascale Denis; Editing by James Regan)
© Thomson Reuters 2022 All rights reserved.