Hugo Boss Q1 operating profit eases, keeps outlook
FRANKFURT, April 30 (Reuters) - Hugo Boss (BOSG_p.DE) reported an 8 percent drop in first-quarter underlying operating profit on Thursday 30 April as demand for its suits and dresses eased amid the economic downturn.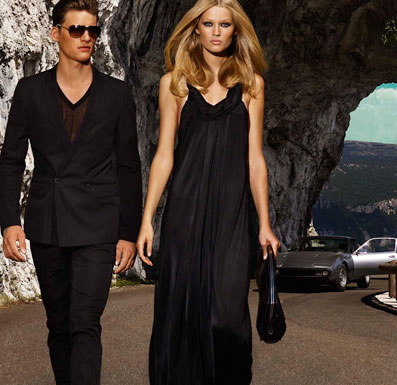 Hugo Boss Spring-Summer 2009
The German fashion house's quarterly earnings before interest and tax (EBIT) before special items fell to 97.5 million euros ($129.2 million), in line with the average forecast of 98 million euros in a Reuters poll of analysts.
Sales fell 5 percent to 484 million euros.
"The economic effects on the luxury and premium goods sector in the next two years and on global spending in this industry are difficult to estimate. As a result, a growth forecast for the luxury and premium goods markets in 2009 and 2010 remains difficult as well," it said.
"However, 2009 will be an extremely difficult year on account of the macroeconomic situation."
Hugo Boss said it still expects 2009 sales to fall while underlying profitability is expected to increase thanks to restructuring measures already implemented.
"Hugo Boss is anticipating that its profitable growth will continue in 2010," it said.
Its shares rose 1.1 percent to 15.24 euros by 0914 GMT, lagging a 2.8 percent gain by German mid-cap stocks .MDAXI.
Hugo Boss, in which private equity group Permira [PERM.UL] holds 88 percent of the voting rights, trades at a discount to other luxury goods makers like LVMH (LVMH.PA) and Hermes International (HRMS.PA).
Analysts point to increased uncertainty following the takeover by Permira, high debt, management changes and the deteriorating market environment for accessible luxury goods.
(Reporting by Eva Kuehnen and Michael Shields)
© Thomson Reuters 2023 All rights reserved.