Inditex's Ortega to step down as chairman
Jan 10 - The founder of the Zara fashion house Inditex is to step down as chairman and wants CEO Pablo Isla to take on his role in a move seen as ensuring management continuity at the world's largest retailer.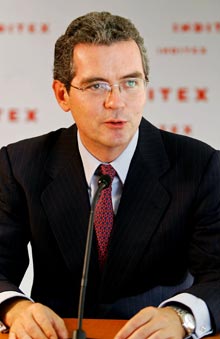 Pablo Isla
Amancio Ortega, Spain's richest man who started his business in the 1960s making dressing gowns in his garage in La Coruna, said on Monday it was time to hand over to Isla, who would continue as chief executive.
"This new stage, which in reality was initiated over recent years, will show the path for the future and will combine youth and experience, which, with responsibility and professionalism, leads to doing things properly," Ortega, aged 74, said in a letter to employees which was quoted in a company statement.
Ortega will propose Isla's appointment at the company's next shareholders meeting in July.
Analysts said the handover was unlikely to mark a change in strategy for the retailer which owns household names ranging from upmarket fashion label
Massimo Dutti
to teen brand
Bershka
.
"The company is running so well. Why would you implement a big change in strategy?" said Karen Howland, research analyst at Barclays Capital.
Isla, 47, who joined Inditex as chief executive in June 2005, is highly respected in Spain's business community having served as co-chairman of tobacco group Altadis and as a senior executive of Spain's third biggest bank Banco Popular.
Trained as a lawyer, Isla worked as director general of state assets for Spain's Economy Ministry.
But he is best known for having transformed Altadis into an international company, finding new markets like Morocco, Portugal and Italy and making it a leader in the cigar market.
Isla also serves on the board of Spain's Telefonica, the euro zone's largest telecoms operator. He had been widely considered a candidate to lead the company at some stage.
Many think Ortega, who closely guards his privacy and does not give media interviews, will continue to have a strong say in the direction of the company.
"I don't think there will be much change since Ortega is staying on the board and still has a 59.3 percent share of the company which he has no intention of selling," said Rebecca McClellan, consumer analyst at Santander.
At 1437 GMT Inditex's shares were up 0.12 percent at 56.08 euros, off a high of 56.48 but outperforming a 1.15 percent fall on the Madrid blue chip index.
Ortega ranks as Spain's richest man and no.10 in the Forbes magazine rich list of the world's billionaires.
By Sarah Morris
(Reporting by Sarah Morris, Mark Potter; Editing by Greg Mahlich, Mike Nesbit, Jane Merriman)
© Thomson Reuters 2022 All rights reserved.