J.C. Penney posts loss, sales tumble, cuts dividend
NEW YORK - J.C. Penney Co Inc's attempt to remake itself as fashion-oriented chain and wean costumers off of coupons took a bigger toll on sales than expected in the first quarter.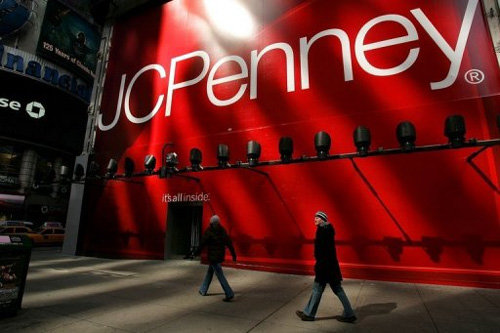 Photo AFP/Getty Images/File, Spencer Platt
The retailer also surprised Wall Street by discontinuing its dividend to help fund its overhaul.
The results are a dose of reality for investors banking on a turnaround plan from a new chief executive, who was credited with helping to build
Apple
Inc's much-envied retail stores.
Penney's shares fell 12.5 percent to $29.17 in late trade.
In February, the retailer began a multi-year transformation that includes eliminating hundreds of sales events in favor of everyday prices on most items, a radical departure that analysts predicted would confuse or alienate its customers.
It is also remodeling stores into what eventually will become homes for 100 separate shops, featuring designers like Jonathan
Adler
and Michael Graves, and home goods icon Martha Stewart.
Visits to Penney stores fell 10 percent in the latest quarter, with the biggest declines on weekends.
"Coupons were a drug, they really drove traffic," CEO Ron Johnson said at the company's analyst conference in New York.
While Wall Street was braced for sales to slump when the discounts were taken away, the unexpected dividend move was viewed as a negative.
The Plano, Texas-based company said it was discontinuing its 20-cent-per-share quarterly dividend and that it would use the resulting $175 million in savings to help fund the company's turnaround.
"What the market did not predict was the dividend cut. That is the big shock," said Brian Sozzi, chief equities analyst for NBG Productions.
"The dividend cut makes you lose shareholder support. And it also makes you wonder, do they have the balance sheet to fund this massive transformation of the business over the next two to three years?" Sozzi said.
Total sales slumped 20.1 percent to $3.15 billion, below the $3.41 billion Wall Street was expecting, according to Thomson Reuters I/B/E/S.
Closely-watched sales at stores open at least one year dropped 18.9 percent in the first quarter, more than the 12.2 percent decline expected by analysts.
The drop was sharper than what Penney experienced at the peak of the financial panic in late 2008, when same-store sales fell 10.8 percent during the holiday quarter.
Earlier on Tuesday, home improvement chain Home Depot Inc posted a quarterly sales increase that fell short of Wall Street's expectations.
CONVERTING 'TITANIC INTO WAVE RUNNERS'
Penney reported a first-quarter net loss of $163 million, or 75 cents per share, for the quarter ended April 28, compared with a profit of $64 million, or 28 cents per share, a year ago.
"It's one big year we have to get through ... We are trying to essentially convert the Titanic into 1,100 wave runners, and that is really hard to do," CEO Ron Johnson said at the analyst meeting, which was attended by vendors like Stewart herself.
To that end, the retailer said it expects to book more restructuring charges during the year. It also warned that more inventory write-downs may be in the cards as it abandons certain lines of business.
As a result, it said it no longer expects to meet its annual net earnings guidance of $1.59 per share. It did, however, repeat its forecast for annual earnings of $2.16 per share, excluding non-cash qualified pension expense, restructuring charges and mark down reserves.
The company's top shareholder, hedge fund manager William Ackman, previously said Johnson had his full backing during the multi-year turnaround and the first-quarter results did not appear to have shaken that support.
At the company's analyst meeting on Tuesday, Ackman told Reuters he was not worried about the results, rather he said, "I'm excited".
© Thomson Reuters 2023 All rights reserved.