J Crew "go shop" period ends with no new offers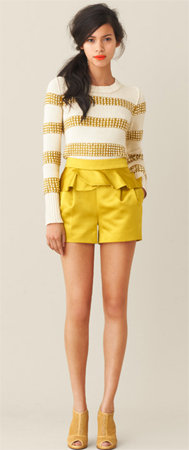 From J Crew's Spring/Summer 2011 collection
Feb 16 - J Crew Group Inc, which received a $2.86 billion private equity buyout offer, said on Wednesday it had received no alternative acquisition proposals during an 85-day "go shop" process that ended Tuesday.
The apparel retailer "engaged in an active and extensive solicitation of 59 potentially interested parties," which resulted in four parties who negotiated and entered into confidentiality agreements. These did not result in a proposal, however.
Sources previously told Reuters that
Sears
Holdings Corp,
Urban Outfitters
Inc and at least two other private equity firms had been looking at J Crew's books.
The "go shop" period to solicit competing offers originally expired on Jan 15 but was extended until Feb 15 amid pressure from shareholders.
In November, the upscale apparel retailer announced that
TPG
Group and Leonard Green & Partners LP had agreed to buy the company for $43.50 a share, at a premium of about 15 percent.
The announcement spurred a flood of shareholder lawsuits protesting the share price and asserting that J Crew Chief Executive Millard Drexler breached his fiduciary duties to investors.
Drexler had been in discussions with the private equity firms for nearly seven weeks without informing the company's board, raising questions about corporate governance.
(Reporting by Alexandria Sage; Editing by Bernard Orr)

© Thomson Reuters 2023 All rights reserved.