JD Sports puts France at the centre of development strategy
JD Sports is turning words into action. The British retailer, which had previously spoken of France as a high priority in its development strategy, has just sent an exclusive mandate to real estate firm Cushman & Wakefield to find spaces in town centres and commercial areas where it can build stores.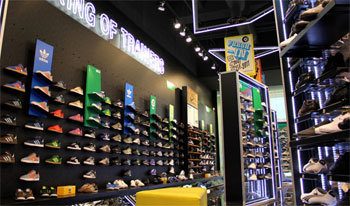 JD Sports Lyon store to go from 300 to 1,000 square metres
After entering the French market for the first time in 2009 through the acquisition of Chausport, the group is now on the lookout for surface areas between 350 to 1,000 square metres. At the end of 2010, JD Sports opened 3 stores in France, one after the other, in Lyon, Paris (Evry 2 shopping centre) and in the northern city of Lille. In the latter, the retailer transformed a former Chausport store into its JD King of Trainers concept.
As part of its new contract with Cushman & Wakefield, JD Sports has signed for the expansion of its store at the Part Dieu shopping centre in Lyon to an extra 700 square metres, thus going from 300 to 1,000 m2. The retailer plans to launch several more stores in France in the near future.
Copyright © 2023 FashionNetwork.com All rights reserved.