Jil Sander teams up with Japan budget fashion label
By Taiga Uranaka
TOKYO, March 23 (Reuters Life!) - Designer Jil Sander's fashions are making a comeback, not on the runways of Milan or Paris but on the shelves of Japanese budget clothing retailer Uniqlo, which is thriving in the recession.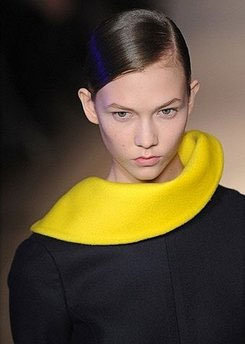 Design by Jil Sander Autumn-Winter 2009/2010, Milan Fashion Week (Photo by: AFP/Christophe Simon)
Uniqlo's owner,
Fast Retailing
, said it had hired Sander as design consultant and to oversee its collection for the next fall and winter seasons, plus possibly create her own line.
Sander, whose minimalist designs in monochromes and luxurious fabrics won her a cult following in the 1990s, has kept a low profile since leaving her namesake label in 2004.
"The challenge for me is to establish premium quality and democratically priced brand Uniqlo," she told reporters in Tokyo after the deal was announced last week.
Uniqlo, which sells $30 jeans and $15 parkas, has been among the very few companies doing well in Japan's deepening recession, as consumers forgo the luxury goods and branded products they once indulged in and turn to less expensive fashions.
"Fast Retailing has been successfully improving its products but there is still room to improve," said Miho Asaba, a retail analyst at Tokai Tokyo Research Center.
"I am looking forward to the fall/winter items that they say will reflect Sander's consulting."
The Jil Sander brand is now owned by another Japanese apparel firm, Onward Holdings, known for labels such as iCB women's wear.
(Editing by Miral Fahmy)
© Thomson Reuters 2023 All rights reserved.