John Galliano to tell trial he lost it on booze and drugs
PARIS | Wed Jun 22, 2011 11:47am BST
PARIS (Reuters) - Fashion designer John Galliano will tell a Paris court that multiple addictions to drugs and alcohol led him to lose all self-control when he defends himself against charges of anti-Semitic behaviour on Wednesday.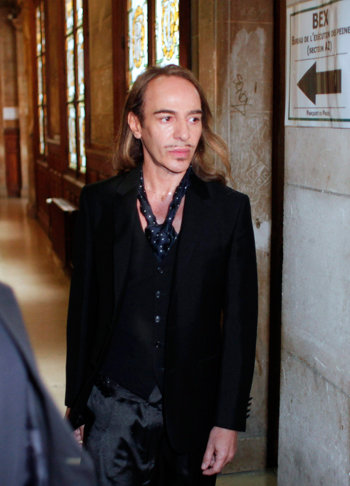 John Galliano - Photo : AP
Galliano's trial is the latest chapter in a saga that began in February when Galliano was questioned by French police after a couple accused him of hurling drunken racist and anti-Semitic abuse at them on the terrace of a cafe.
The February 24 incident -- combined with a video in which an apparently inebriated Galliano was filmed telling a woman he loves Hitler and that her parents might have been gassed in a Nazi death camp -- led to the designer's dismissal from his post as creative director for Parisian fashion house Dior.
Magistrates were expected to arrive at a decision quickly in the trial, which pits Galliano, 50, against two accusers -- one a woman who claimed to have never heard of the designer before their February encounter, and another whose accusations refer back to events last October.
If found guilty, Galliano faces a six-month jail sentence and a fine of up to 22,000 euros (19,600 pounds). Precedent in similar cases suggests that a more likely outcome is a smaller fine, a few thousand euros at most.
The lawyer for one of Galliano's accusers, museum curator Geraldine Bloch, said she would seek symbolic damages of 1 euro and publication of the court's decision in two fashion magazines, Elle and Vogue, and French daily Le Figaro.
Her lawyer, Yves Beddouk, told Reuters on Monday that his client was interested not in Galliano's money, but in getting him to acknowledge the alleged anti-Semitic tirade publicly and make a show of contrition which befits his reputation.
Galliano's lawyer told Reuters this week that the designer will say he has no recollection of the rants for which he has been charged, was under the influence of drugs and alcohol, and had lost control over his words and behaviour.
The designer has repeatedly apologised for his remarks on the video which emerged online after the February 24 incident.
Galliano's lawyer Aurelien Hamelle said that he will call up a toxicology expert to testify that the designer -- triply addicted to alcohol, the sedative Valium and powerful sleeping pills -- would have been in a state of utter abandon, completely free of any inhibitions.
Galliano, who left France shortly after the incident to receive treatment for substance abuse in the United States, is also expected to say that he is not a racist nor an anti-Semite.
As part of his character Defence, lawyers will present letters to the court depicting the designer as a model of tolerance and openness who opened his studio to people from all over the world with no regard for their origin.
Plaintiffs will present Galliano as a mean drunk who exposed his anti-Semitic and racist views when under the influence of alcohol, and had no respect for common people whom he believed were trespassing on his territory.
(Editing by Paul Casciato)
© Thomson Reuters 2023 All rights reserved.