John Lewis appoints new Operations Director
John Lewis department stores has appointed Dino Rocos as Operations Director. Dino will be responsible for the distribution and merchandising functions, reporting to Managing Director Andy Street.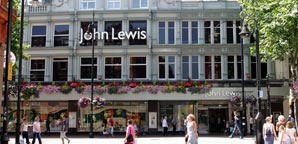 John Lewis in Reading, Berkshire
Dino will take up the Board-level position on 2 August from his current role as Director, Distribution which he has held since 2005. Previously Dino had a number of roles with the retailer including posts in selling and production, having joined the 70,000 staff strong co-ownership partnership in 1977.
Andy Street, Managing Director, John Lewis, 'Britain's favourite retailer 2009'* and 'Multiple Department Store of the Year 2009'**, said: 'I am extremely pleased that Dino will be joining the John Lewis Management Board as Operations Director, bringing 33 years of retailing experience. Having led the transformation of our distribution function, Dino is perfectly placed to ensure distribution and merchandising work together seamlessly.'
Dino Rocos said: 'I am thrilled about this new opportunity. Distribution has seen a lot of change and innovation recently, not least with the opening of our semi-automated distribution centre in Magna Park. I am looking forward to bringing distribution and merchandising closer together, a link that will deliver a number of benefits to our customers and our operation.'
* Verdict consumer satisfaction index, January 2010
** The Drapers Awards for fashion retail, October 2009
Copyright © 2022 FashionNetwork.com All rights reserved.