John Lewis sales wilt in Indian summer
LONDON, Oct 7 (Reuters) - Sales at John Lewis (BB90_p.L), the UK's biggest department store group, fell sharply last week, as cash-strapped Britons chose to enjoy the record breaking hot weather rather than shop.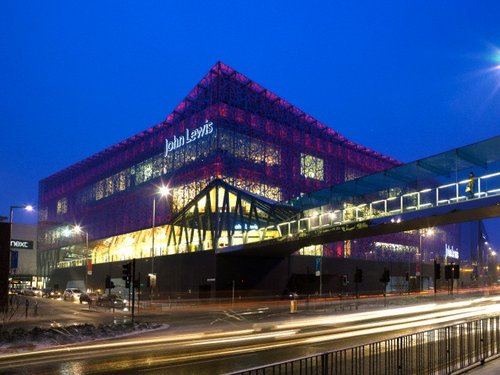 John Lewis Leicester / Photo: Corbis
The employee-owned business said on Friday sales at its department stores plunged 7.9 percent year-on-year to 57.5 million pounds ($88.4 million) in the week to Oct. 1, a week when Britain experienced the hottest October day ever recorded.
Sales excluding VAT sales tax fell 9.5 percent.
"It was a tough week for John Lewis due to the Indian summer that arrived on Monday (Sept. 26)," the firm said, highlighting a 13 percent slump in fashion sales.
"Clearly, customers were not in the mood to shop for autumnal clothing in fashions and inevitably trade was slower as a result," it said.
The sales fall caps a dire week for the UK retail sector.
Pressure on British consumers was laid bare on Wednesday as top retailer Tesco posted one of its biggest-ever falls in underlying sales, while rival J Sainsbury reported only modest growth.
Adding to the sense of gloom were profit warnings from mother and baby products firm Mothercare and youth fashion retailer SuperGroup
The week has also seen homewares chain Dunelm , chocolatier Thorntons and bicycles to car parts retailer Halfords report declines in underlying sales.
UK consumers' disposable incomes are being squeezed by rising prices, muted wage growth and a government austerity drive.
Howard Archer, chief economist at IHS Global Insight, said the John Lewis data "fuels concern that consumers are reining in their spending - particularly on discretionary products - in the face of the persistent serious squeeze on their purchasing power and their major concerns over the economy, jobs and financial market turmoil."
Last month John Lewis reported an 18 percent drop in first-half profit, hit by discounting and a step-up in investment. But the firm said it expected to outperform rivals in the run-up to Christmas.
John Lewis also owns the Waitrose supermarket chain. Here, week to Oct. 1 sales increased 9.7 percent to 101.9 million pounds, with the hot weather boosting sales of all things barbecue-related.
($1 = 0.638 British Pounds)
(Reporting by James Davey; editing by Mark Potter) (Reporting by James Davey; Editing by David Cowell)
© Thomson Reuters 2023 All rights reserved.