John Lewis weekly store sales down 9.8 pct
By Rhys Jones
LONDON (Reuters) - John Lewis Partnership, the employee-owned store chain seen as a barometer of the retail sector, said on Friday last week's sales at its 27 department stores fell 9.8 percent year on year.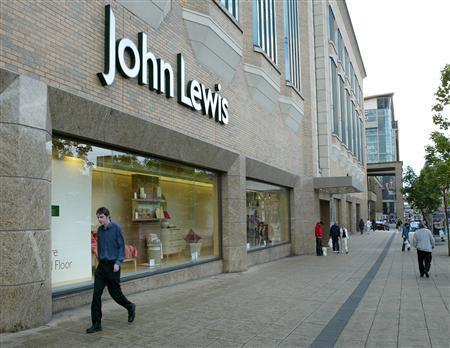 The group said the fall of half-term school holidays led to an easing of trade in many areas during the week and that the effect of the slowing economy had hit trade over the 13 weeks to October 25.
"The third quarter of the year ended on a subdued note, coinciding as it did with confirmation that the UK economy shrank during this period. The effect can clearly be seen in our trade -- with a distinct softening since the summer," the company said in a statement.
Analysts believe the drop in sales will heighten retailers' fears over the likely depth and length of the recession as 2009 approaches.
"The plunge in sales in the week is extremely worrying and heightens fears that the economy will suffer from an extended period of serious consumer retrenchment. This is particularly bad news for retailers as the vital Christmas period gets under way," said Global Insight economist Howard Archer.
John Lewis said the shortfall also reflected continuing slow home and electrical sales but that fashion had performed reasonably well.
"The evidence is that although our customers are being far more judicious in their spending, they are still choosing to spend with us," the company said.
Seymour Pierce analyst Freddie George said "unplanned discount activity by competitors including Debenhams, House of Fraser and BHS" was also likely to have hit John Lewis' sales during the week.
Department store sales were up 8 percent compared with last week at 52.04 million pounds, while sales at the group's chain of 192 Waitrose supermarkets was largely flat at 73.4 million pounds.
(Editing by Will Waterman)
© Thomson Reuters 2023 All rights reserved.