Jones Group says retailers ordering cautiously
Jones Group Inc on Wednesday warned investors that retailers were being cautious in placing orders for the autumn and there was still a need to offer deals to shoppers, overshadowing strong demand for its higher-end shoe brands.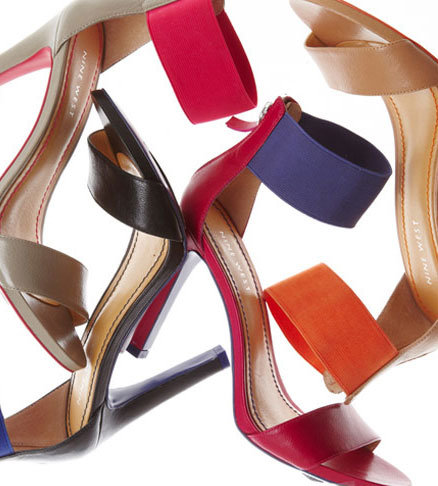 Photo: Nine West
Jones, the clothing and shoe manufacturer behind such brands as Nine West, Jones New York and Anne Klein, also reported weak sales in its wholesale jeans and sportswear lines.
"Revenues were also impacted by the continued highly promotional retail environment," Chief Executive Wesley Card said on a conference call. "Our retailers are not planning dramatic increases (in orders)."
Revenue fell 2.6 percent to $936 million in the first fiscal quarter that ended March 31, just shy of the $937.3 million Wall Street was forecasting, and for the full year, Jones lowered the high end of its revenue forecast.
The company now expects between $3.8 billion and $3.93 billion in revenue. It had previously said revenue could reach as high as $4 billion.
Wholesale sales of jeans, including brands such as Gloria Vanderbilt, to U.S. retailers fell 21.5 percent. Jones had tried to sell the unit last year to an Israeli private-label clothing maker, but said in January those talks had been dropped.
Sales to department stores including Macy's Inc and Nordstrom Inc account for just over half of Jones' revenue, but the company said retail customers have been more cautious in placing orders for its mid-tier brands to avoid building up too much inventory.
And the decision by J.C. Penney Co Inc, which has dropped Jones' Gloria Vanderbilt and Easy Spirit lines, earlier this year to largely eliminate sales events has hurt, Chief Financial Officer John McClain said.
Sales at the company's U.S. stores fell 5.2 percent, despite the benefit of warm weather and an early Easter. It has been closing unprofitable stores and said it would continue to do so.
Jones shares fell as much as 6.9 percent, and were down 5.4 percent at $11.57 in late-morning trading.
RELIEF FROM LUXURY
Jones, whose portfolio also includes Rachel Roy and Robert Rodriguez, has been shifting its focus to its growing portfolio of luxury brands, moving away from low-margin basics like jeans.
The upscale Kurt Geiger brand, which the company bought last year, helped lift its gross profit margin 2.3 percentage points to 36.7 percent of sales.
Geiger, which is a British brand, is also helping Jones develop its international business, which is on pace to reach 21 percent of revenue this year.
Jones will open its first U.S. Geiger store in 2012, with another three coming in next year and a half.
Jones bought the high-end Stuart Weitzman shoe brand in 2010 as part of the effort to raise its exposure to the luxury market, where profit margins are less vulnerable to rising costs and shoppers have been spending heartily.
Still, its mid-tier brands like Jones New York and Nine West remain its biggest.
Excluding costs from closing some stores and restructuring, Jones reported a first-quarter profit of 31 cents per share, down from 38 cents a year ago, but well above the 14 cents Wall Street was expecting, according to Thomson Reuters I/B/E/S.
Jones reported a net loss of $1.2 million, or a penny per share, compared with a year-earlier profit of $25.7 million, or 30 cents per share.
© Thomson Reuters 2023 All rights reserved.