Kaporal takes on Santiago Cuchy
Kaporal is about to mark an important step in its development. Laurent Emsellem, director and founder of the denim brand, has hired Santiago Cuchy as his right-hand man. Cuchy spent three years at the head of Tommy Hilfiger France, after ten years in various - and notably international - positions with Quiksilver, in whose significant development he played a role.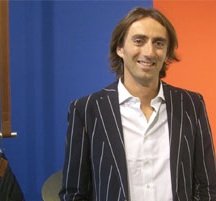 Santiago Cuchy
Santiago Cuchy yerterday took over as CEO at the company which has grown exponentially since it was founded in 2004. Kaporal's turnover in 2011 stood at 93 million euros, compared to 70 million in 2010. In spite of the economic slow-down, that figure should reach 100 million this year. The brand is distributed through more than 1,000 multi-brand retailers and has 65 outlets in France, and 7 overseas. A further 10 openings are planned this year.
A lot has been achieved since it was founded, but there's still a lot to be done to turn Kaporal into an international brand. It exhibited at the latest Bread&Butter, and is also on the list of exhibitors for Shanghai
Novomania
.
Although very logo-based since the beginning, the brand has begun to develop a purer line of clothing under Laurent Emsellem's leadership. It has also begun to employ licenses, and this autumn the fruits of its licence with
Royer
- a collection of shoes - will be released.
Copyright © 2023 FashionNetwork.com All rights reserved.